A fruit-bearing tree that originated in Southwest Asia, the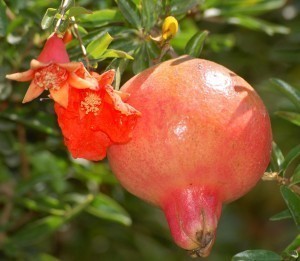 pomegranate tree is widely cultivated in various countries like Iran, Armenia and Turkey. The fruit is very popular in the Northern Hemisphere from September until February. On the other hand, pomegranates are in season starting March until May. The tree has different varieties, which include the Soveh, the Ardestony and the Touq Gardan. Many people like to cultivate and grow the tree in their backyards because it has various culinary uses. To make sure that you will grow the tree well, it is important to have a background on the average pomegranate sizes.
The Size of Pomegranate
The pomegranate is a small tree that has an average height of five meters to eight meters. The leaves are narrow oblong and glossy. The leaves are three centimeters to seven centimeters long. The width of the leaves is around two centimeters. The tree produces bright red flowers. The diameter of the flowers measure three centimeters. Each flower has four or five petals. The shape of the pomegranate fruit is rounded hexagonal. Each fruit has around 600 seeds and it measures five centimeters to 12 centimeters in diameter.
Additional Information and Other Important Details
The pomegranate fruit is very nutritious because it is rich in vitamin C. The other nutrients that are present in the fruit are zinc, magnesium, phosphorus, calcium and niacin. In addition to these, the fruit has thiamine, riboflavin, vitamin B6, folate and zinc.
In Canada and the United States, the pomegranate juice is popular. The juice has a sour or sweet taste. The juice can be mixed with other ingredients to make a delectable and healthy sauce. The sauce is commonly served with fish dishes. Additionally, it can be used to make a soup that is served with poultry or duck dishes.
The fruit has various medicinal uses. The fruit or the juice is recommended to those who are suffering from diarrhea and jaundice. The flowers can be boiled and the juice can be used to cure nose bleeds. The pomegranate fruit has antioxidants that are essential to treat heart diseases. Additionally, it is helpful in lowering blood cholesterol as well as pressure. Other diseases that can be treated with the different parts of the plant include bronchitis, hemorrhage as well as dysentery. Aside from these illnesses, the pomegranate is also helpful in decreasing the risk of low density lipoprotein cholesterol and preventing the development of atherosclerotic lesions.