One of the most famous and largest fast food restaurants in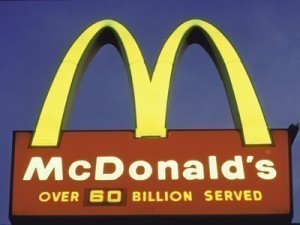 the world, McDonald's serves approximately 47 million consumers every day. The restaurant was established in San Bernardino, California on 15 May 1940. The restaurant became McDonald's Corporation in 1955. This establishment started with serving hamburgers but to attract customers, the restaurant expanded its menu and added other entrees such as snack wraps and salads. The income of the company came from fees, royalties and rents paid by franchisees and affiliates. To know more about this firm, let us start with the size of the company.
The Size of McDonald's
How big is McDonald's? The size of the restaurant can be determined by looking at the number of employees working for the firm. In 2008, the company employed at least 1.5 million people. For the fiscal year 2008, the total revenue posted by the firm was $22.6 billion. The operating income of the firm amounted to $6.51 billion while the net income was $4.31 billion. The total asset of the company for the year was $29.2 billion. Finally, the total equity posted by the corporation was $13.2 billion.
Another way of looking at the size of this establishment is by determining the number of fast food chains operated by McDonald's. The firm manages at least 30,000 restaurants in 119 countries. The firm also manages other brands like the Piles Café. In addition to this, the restaurant has a stock in Chipotle Mexican Grill. In 2003, the company acquired Donatos Pizza.
Additional Information and Other Important Details
This establishment offers drive through service as well as counter service. Some of the franchises provide outdoor seating for the comfort and convenience of customers. In addition, there are franchises that have special themes like the Solid Gold McDonalds, which was constructed in the 1950s. Consumers at Victoria in British Columbia can also find a restaurant that has 24 carat gold light fixtures as well as chandelier.
To compete with the popular coffee shops, the company introduced the McCafe concept to consumers. This concept started in Melbourne, Australia in 1993. McCafe is a coffee shop that is usually found inside McDonald's fast food chains.
To attract children, McDonald's fast food chains also feature playgrounds known as the PlayPlace. Some franchises of the corporation convert the PlayPlace to R Gyms, which feature stationary bicycles and interactive games for children age four to 11. Moreover, the place has interesting arcade games for toddlers and children.