Ski boots are a type of protective footwear that skiers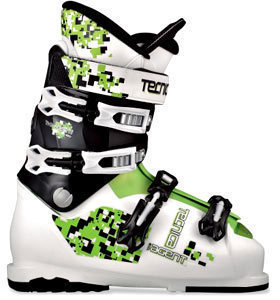 use to enable them to smoothly maneuver and manipulate their skis. These boots are attached to the skis with the use of a binding material and they can be front-entry, mid-entry or rear-entry boots.
Ski boot sizes typically come in what is called Mondo Point system or in layman's term, sizing in centimeters. However, there are conversion charts that you can readily find on the internet to help you determine your actual ski boot size whether in Mondo Point sizes, European standard sizes, UK or the US standard sizes.
Buying Ski Boots
There are various types of ski boots that you can consider when choosing the right pair for you. Each type has its own specifications so you'd best look carefully into each specification to help you determine which one will best serve your purpose.
The three basic types of ski boots are: Alpine, Nordic and Alpine Touring.
Briefly, Alpine ski boots attach to the skis on both ends of the boots, meaning at the toes and also at the heels. These boots do not normally have rubber-made soles but have hard plastic instead.
Nordic ski boots are also known as cross-country ski boots. Unlike with the Alpine boots where each boot attaches to the ski from both the toe-end and the heel-end; Nordic ski boots only attach to the skis at the toe-end.
Alpine Touring ski boots on the other hand are designed for both cross-country skiing as well as slides down slopes. There are various binding techniques used for these boots including Alpine binding as well as cross-country binding.
Ski Boot Sizes
Once you have determined the type of ski boots that you have, the next thing that you may want to look into is determining sizes in different units.
As was previously mentioned, the Mondo Point sizing system is what is typically used for ski boot sizes. If this is your first time to purchase ski boots, you may not be able to automatically convert your measurement in standard units.
To give you an idea of a few sizes in Mondo and converted into standard sizes, check the list below.
Mondo Point – 22 centimeters
US/Canada Men's – 4
US/Canada Women's – 5
Europe – 35
UK – 3
Mondo Point – 22.5 centimeters
US/Canada Men's – 4.5
US/Canada Women's – 5.5
Europe – 36
UK – 3.5
Mondo Point – 23 centimeters
US/Canada Men's – 5
US/Canada Women's – 6
Europe – 36.5
UK – 4
Mondo Point – 24 centimeters
US/Canada Men's – 6
US/Canada Women's – 7
Europe – 38
UK – 5
These are only a few size conversions that can help you find your boot size. You should ask your supplier for size conversions once you are ready to purchase your ski boots.