Basketball Center Court Dimensions
A basketball court is one of the most common fixtures all over the world. It is usually part of a park,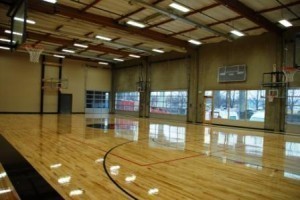 plaza or public playgrounds where many people usually gather to have fun, relax and enjoy. At the middle part of it is a basketball center court, which is basically a circle where every game is usually started. For a full understanding of the game, it is good to know the different dimensions of a basketball center court.
The Dimensions of a Basketball Center Court
The sizes of basketball court centers vary depending on what rules the game is played. In case the game is played under the rules sanctioned by the International Basketball Federation, the diameter of the circle should be 3.6 meters or 11.81 feet. Some of the rules implemented by this group, which is more popularly known as FIBA, are somehow different compared to the rules applied by the National Basketball Association (NBA).
In the NBA, the diameter of the basketball center court is set at 3.66 meters or 12 feet. Because of its popularity, many other leagues follow the different NBA rules including the Women's National Basketball Association or WNBA. Likewise, lower levels of the game follow the same size of basketball center court including the junior high school, the U.S. high school as well as the NCAA or the National Collegiate Athletic Association.
Additional Facts and Other Interesting Details
The center court is one of the important sections of a basketball court. Games usually start here as two players try to gain possession at the start of every game. In addition, jump balls are also held in this all-important part of the court. A player from each team tries to tap the ball towards their teammates in order to gain possession of the ball as the referee tries to throw it equally at the middle.
Aside from this part of the court, it is also very important to determine its other portions. One of them is the three-point line, which measures 22 feet to 23.75 feet or 6.7 meters to 7.24 meters in the NBA, 20.75 feet or 6.32 meters in the NCAA and 20.5 feet or 6.2 meters under FIBA rules. Other notable lines in the game of basketball include the key, the low post area and the perimeter. Furthermore, it is also quite important to take note on the distance of the free-throw line from the backboard, the diameter of the restraining circle and the length as well as the width of the playing court.