Known for its interesting rules and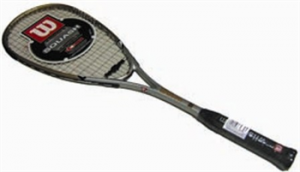 different challenging aspects, squash currently ranks amongst the top racquet sports in the world today. Earlier in history, the game was dominated by players like Margot Lumb of the U.K. and Egypt's F. D. Amr Bey in the 1930s, Egypt's Mahmoud Karim in the 1940s and Pakistan's Hashim Khan and England's Janet Morgan in the 1950s. Gregory Gaultier of France and Nicol David of Malaysia are two of the most popular players of the sport in recent years. For a better understanding of the game, it is good to know the size of squash racquets.
The Size of Squash Racquets
The standard size of squash racquets is governed by the official rules of the game. The dimensions of the modern version of these racquets are 27 inches or 686 millimeters long and 8.5 inches or 215 millimeters wide. The maximum strung area must measure approximately 90 square inches or 500 square centimeters. In terms of mass, each racquet must not go beyond the 9-ounce or 255-gram limit. Most players prefer to use racquets that weigh around 4 to 7 ounces or 110 to 200 grams.
Additional Facts and Other Interesting Details
The squash racquet is used to perform different kinds of shots in the game. These include the nick shot, the skid boast and the squeeze boast. Likewise, there is also the trickle boast, the kill and the cross court. The other important types of shots in square are the lob, the drop shot, the volley, the boast and the straight drive.
The number of squash courts in the world as of June 2009 is 49,908. These include more or less 188 territories and countries with at least a single court. The place with the greatest number of courts is England, which has 8,500. The other nations with over 1,000 courts are Spain, the Netherlands, France, Malaysia and Canada. The same also goes for countries such as South Africa, Australia, the United States, Egypt and Germany.
Players from England and Egypt, each of which has 11 players, continue to dominate the men's world rankings. On the other hand, England has 11 players dominating the women's world rankings. The Professional Squash Association governs the tour and rankings of men's professional squash. Meanwhile, the Women's International Squash Players Association is responsible for women's events and rankings.
Since the start of the men's British open, the game was dominated by the likes of Jonah Barrington of Great Britain, Geoff Hunt of Australia as well as Jahangir Khan of Pakistan. On the contrary, highly impressive players such as Joyce Cave of England, Heather McKay of Australia and Susan Devoy of New Zealand dominated the women's championships.