Kitchen Corner Cabinet Size
Kitchen corner cabinet sizes can vary a great deal. Not only do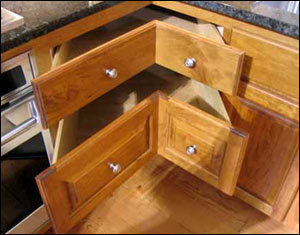 manufacturers come up with their own standards, but many of these can be custom built. It means you can have cabinets tailored made to precise dimensions.
Sink Cabinet Sizes
The typical sink cabinet is 36 inches wide. The standard depth measurement is 24 inches. This depth is used in almost all types of kitchen cabinets. If the sink cabinet will be placed in the corner, 36 x 36 inch sizes are usually preferred.
The 36 x 26 inch figure works best with a 90 degree sink. You can also have kitchen cabinets custom built of course. With custom sizes, any dimensions can be used.
Kitchen Cabinets over the Stove
The kitchen corner cabinet sizes are typically 30" x 15" high over the stove. But there are also cabinets a couple of inches higher. Never buy a cabinet that is less than 15 inches high. In some cases, the 27 inch cabinets will be sufficient.
A Note on Refrigerator Cabinets
It is hard to find a refrigerator cabinet less than 36 inches wide. But most people will recommend you get something wider than this. The standard height is 15 inches but there are bigger ones available.
Cabinets over the refrigerator are also being sold. The average depth is 24". In most cases this will be enough.
Other Considerations
There are many types of kitchen cabinets, so you have to make your choices carefully. Think about your kitchen setup and how comfortable you will be using them.
Make sure you measure the available kitchen space well. Double check the figures so you do not make mistakes. The point is to make sure there is enough space available.
Tips for Buyers
Various wood materials are used for making these cabinets. The type of material used will have an effect on the price. You should look at different online stores before buying. It will take some time, but this can save you a lot of money.
If you want custom made cabinets, there are many services to choose from. Usually, custom made kitchen cabinets will cost more. But some online services may offer discounts.
When assessing the kitchen corner cabinet sizes, take into consideration the other aspects of the kitchen. For instance, an eating area will have an effect on the overall dimensions. The more you plan the kitchen design, the easier it will be to get the figures right.