While the exact Refrigerator Dimensions will vary depending on need and design, knowing what will fit in your kitchen is important especially if you have kitchen cabinets to worry about and other factors which will determine what size fridge will even fit in your home.
Refrigerators have three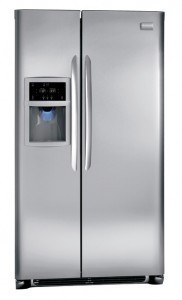 standard styles and these are the bottom freezer, top freezer, and side-by-side. There is a style called French door refrigerator which has a double door bottom freezer. Refrigerator dimensions are dependent on the style and cubic feet capacity of each one.
Comparing the three standard styles with similar capacity, the most energy efficient is the top freezer, next in line is the bottom freezer, and the least energy efficient is the side-by-side style. Refrigerators are also less energy efficient when they have indoor water and ice dispenser compared to those that have none.
Side-by-Side Refrigerator Dimensions
A. Free Standing Side-by-Side
Width: 32 inches to 36.5 inches
Height: 66 inches to 70 inches
Depth without the door and handle: 28 inches to 29.5 inches
B. Counter-Depth Side-by-Side
Width: 35 inches to 36.5 inches
Height: 68.5 inches to 72.5 inches
Depth without the door and handle: 24 inches
C. Built-In Side-by-Side
Width: 42 inches to 48 inches
Height: 83 and 3/8 inches to 84 inches
Depth without the door and handle: 23.5 inches to 25 inches
French Door Bottom Freezer Refrigerator Dimensions
A. Free Standing French Door Bottom Freezer
Width: 33 inches to 36 inches
Height: 68 and 5/8 inches to 70 inches
Depth without the door and handle: 28.25 inches to 29.5 inches
B. Counter-Depth French Door Bottom Freezer
Width: 35 and 3/4 inches to 36 inches
Height: 69 and 5/8 inches to 71 inches
Depth without the door and handle: 23 and 3/4 inches to 24 inches
C. Built-In French Door Bottom Freezer
Width: 42 inches to 48 inches
Height: 83 and 1/8 inches to 84 inches
Depth without the door and handle: 23.5 inches to 25 inches
Bottom Freezer Refrigerator Dimensions
A. Free Standing Bottom Freezer
Width: 29 and 5/8 inches to 36 inches
Height: 66 and 3/4 inches to 70 inches
Depth without the door and handle: 28 inches to 30 and 7/8 inches
B. Counter-Depth Bottom Freezer
Width: 35 and 5/8 inches to 36 inches
Height: 69 and 3/4 inches to 70 inches
Depth without the door and handle: 23 and 3/4 inches to 24 inches
C. Built-In Bottom Freezer
Width: 35 inches to 36.25 inches
Height: 82 and 3/4 inches to 84 inches
Depth without the door and handle: 23.5 inches to 24 inches
Top Freezer Refrigerator Dimensions
Width: 28 inches to 36 inches
Height: 61 and 3/4 inches to 69 inches
Depth without the door and handle: 25 and 7/8 inches to 28 inches
Compact (Under-Counter) Refrigerator Dimensions
Width: 17 and 3/8 inches to 24 inches
Height: 19.5 inches to 34 and 1/8 inches
Depth without the door and handle: 13.5 inches to 18 and 3/4 inches
In selecting a specific refrigerator unit to purchase, the dimensions play a major part on the decision making. Measure the allotted refrigerator space in your kitchen so that the unit that you will purchase will really fit into the specified kitchen space. See? It's that simple. And you thought Refrigerator Dimensions were going to be hard to understand…