There are quite a number of charts on bed dimensions. Each list reveals a different standard, depending on the bed manufacturer and its country of origin. There is no absolute standard when it comes to bed sizes.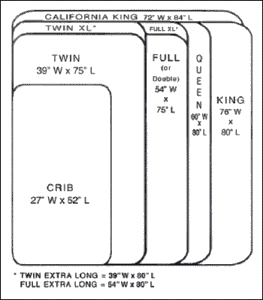 Many years back, bed sizes are impressed on feet. However, newer charts listed them in centimeters or in inches. If you are one of those who keep looking on bed dimensions in feet, you have come to the right page. We will give you the list here.
US Bed Sizes:
Single/Twin Size — 3'3″ x 6'3″
Extra-Long Single — 3'3″ x 6'8″
Three Quarter — 4′ x 6'3″
Double/Full — 4'6″ x 6'3″
Extra-Long Double — 4'6″ x 6'8″
Queen — 5′ x 6'8″
California Queen — 5′ x 7′
King — 6'4″ x 6'8″
California King — 6′ x 7'
UK Bed Sizes:
Small Single — 2'6″ x 6'3″
Single — 3′ x 6'3″
Super Single — 3'5″ x 6'3″
Three Quarter/Small Double — 4′ x 6'3″
Double — 4'6″ x 6'3″
King — 5′ x 6'6″
Super King — 6′ x 6'6″
Making your Bed Ultra Comfortable
There is more than just the size of the bed to consider in making an ultra comfortable bed. You can also do so by merely electing the proper bedding. The right kind of bedding can lead to many luxurious sleeps. Plus, it can also add up to the appeal of your bed.
When choosing your bedding, keep in mind that the kind of fabric is an important consideration. Egyptian cotton is a comfortable type of fabric. If you want something breathable, you can go for a linen mix. To achieve greater warmth, silk or satin would be a nice choice.
Of course, there is still the concern about the size. Choosing the right size of a bedding according to the actual dimensions of your bed will say a lot about the comfort and appeal of your bed after you dress it up. Do not attempt to fit in a Full sheet with a King sized bed. That is simply a no-no. If you are unsure about your bed dimensions, go ahead and get a tape measure. Take the measurements of your bed from top to bottom and from one side to the other side.
With the right materials, you can easily duplicate five star hotel rooms. You can enjoy the same comfort, the same air of luxury right at your own home if you are truly creative. You can find ideas easily online. That means, you need not to look far for something to copy.