Baby change mats basically provide additional protection for your changing pad or table so these won't get easily soiled as you change the baby's diaper.
Most importantly, these provide a clean surface for the baby to lie on as he is being changed, especially if you are outdoors or are traveling with the baby.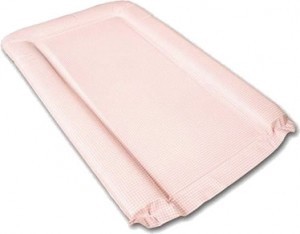 The size of baby change mats should give enough room for the baby as he is being changed. You will find that you have several options when picking out the right size of baby change mats for your bundle of joy.
Size of Baby Change Mats
When selecting the size of baby change mats suitable for your baby, consider your baby's size as well. Some mats may be too small for your baby especially if he is quite a big baby.
Basically however, the size of baby change mats is around 600 millimeters in length by 310 millimeters in width. These dimensions are approximately 60 centimeters long and 31 centimeters wide.
For a slightly longer one, there is a size of baby change mats that is about 61 centimeters long. While the difference is not that much, there are mats of this length that are considerably wider at 61 centimeters as well; giving you a square-shaped mat when spread out.
On the other hand, there are likewise 61-centimeter long change mats that are about 33 centimeters wide – still slightly wider than most other change mats.
Now, if you wish for another longer mat; you can find several change mats that are 64 centimeters in length by 48 centimeters in width. These mats give you a much bigger size in both the length and the width as compared to other elongated mat sizes mentioned here.
Portable Change Mats
The best thing about these change mats is that they can be easily folded or rolled so you can take them with you whenever you leave the house with the baby in tow.
So even if you are at the mall, in the park or anywhere else; you can easily change your baby's diapers without having to worry about where to place him that's clean and comfortable.
Some change mats even add extra comfort features by filling the mat with a small amount of foam to make the surface just a tad softer to lie on for the baby. These also come in various designs and colors enabling you to pick one suitable for your baby.
In addition, most change mats can be easily thrown in the wash when they need to be cleaned without compromising their shape and quality.
This means you don't have to worry that they will suddenly lose their soft or smooth feature once they are washed.