Scissors have long been used in cutting or clipping things in offices, schools,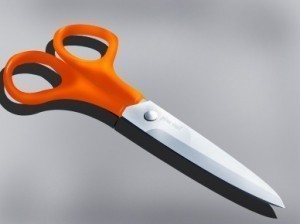 and even one's own household. Different uses actually depend on the dimensions of a scissor and the way it was created for a certain task.
Safety Scissors
The first type of scissors you would encounter in life is called the safety scissor. Usually, the youngest members of the family (from ages three and above) start getting to know what a scissor is and what it can do by using this. With the parent's supervision, it's a good way of introducing them to art even before they go to school.
The typical dimensions of a scissor like this in stores would have these specifications: 0.4 by 3.2 by 10.7 inches, 6 by 11 by 9 inches, or 5 by 3 by .25 inches for the measurements of the height, width, and diameter.
This type of model in the market is very easy to find. Typically, you would see hundreds of these safety scissors in many stores with its plastic-encased blades and blunt tips. Years ago, these were actually manufactured with metal instead of plastic. But most of the parents of the children who use this say that they like this plastic-made modern product instead of the metal scissors marketed before because it is safer and easier for their children to handle.
Fabric Scissors
The fabric scissor is designed with long and really sharp blades, and an ergonomic plastic type of handle. The blades are usually made of stainless steel or what is referred to as tempered steel. The knife edge of some models is sometimes set at 7 inches, 9.5 inches or 8.5 inches long.
Since this type is sharper than the starter-type of scissor for children, it is recommended that you only use this with fabric or cloth instead of paper. Paper and other types of material may only make the blades dull.
Bandage Scissors
Some overall dimensions for this type are around 8 and ¾ inches by 6 inches by 4 and ¼ inches. Others have around 5.5 by 2 by 0.1 inches. And there are also some with around 4.625 by 1.875 by 0.2 inches.
If you closely look at the bandage scissors, you would see short type of blades designed to do its work. Its handles are usually long for easier handling. Typically, these are used for cutting bandages in hospitals and clinics.
Pinking Shears
Just like the other types of scissors, there are a lot of choices for this type of shears. There are 9.5 inches of pinking shears and some at eight inches with blades designed in a zigzag form for cutting fabric or paper. Others have around 45 cm by 38 cm. while some products are manufactured with around 2.5 by 11.8 by 30.5 cm for its measurements. Each manufacturer has their own set of standards with the various dimensions that they would model their products with.
With these things in mind, you can see that the dimensions of a scissor and its type of use are usually set by company standards. Different models cater to various needs for cutting.