The standard toilet seat dimensions give ample allowances for leg room and other necessary body movements when using the seat.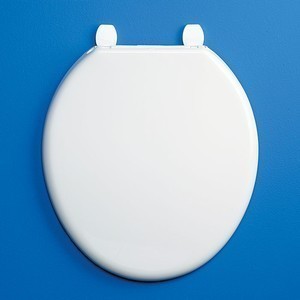 Here are water closet measurements that need to be considered for a well planned toilet and bath.
Seat Width
In architectural or plumbing plans, the standard seat width used is 40 centimeters or .40 meters. This includes the 5-centimeter thickness of the rim, leaving .30 meters as the effective bowl hole width. The measurement can support the average anal size of users. Some toilet seat dimensions may adjust several millimeters smaller to give way to a desired bowl design or shape. These narrow water closet measurements are often used for rest rooms or toilet cubicles with limited spaces.
Seat Length
Seat lengths vary from 45 to 50 centimeters. This includes the 5-centimeter rim thickness, leaving an effective bowl hole length of 0.35 to 0.40 meters. This length covers both the anal and the urinal exits of human waste, even if bowel and bladder movements should happen simultaneously. Toilet seat dimensions with shorter length would render either bowel or bladder movement uncomfortable. On the other hand, water closet measurements with longer length would defeat practical space usage and aesthetic and proportion considerations.
Seat Height
Most water closet measurements fail when it comes to the seat height. If made a bit higher than the standard, the bowl may cause numbness on the legs. This is due to veins at the back of the legs too hard-pressed against the bowl rim. If made a bit lower, this may cause some constipation due to the navel too hard-pressed by too low a sitting position.
Proper toilet seat dimensions should have height of 40 or 45 centimeters. This allows for a comfortable sitting position that also aids in smooth bowel movements. Moreover, this also affords easier urinating in a standing position for males.
Water Tank
Seat length is also influenced by the dimension of the water tank at its rear. The width of water tanks is 0.25 meters, making the overall length of a standard water closet from 0.70 to 0.75 meters. This should be perfect for a rest room or toilet cubicle with a width of 1.20 or 1.50 meters. Some modern toilet bowl designs have eliminated the need for water tanks and have incorporated water supply for flushing in the plumbing system.
Rim to Wall Allowance
A final consideration to include in a toilet seat design is the space allowance from the rim of a bowl to the nearest wall. The allowance should not be shorter than 45 to 50 centimeters for ample leg room.