Biggest Airport Terminal Dimensions
The biggest airport terminal in the world is Terminal 3 at the Dubai International Airport in Dubai at the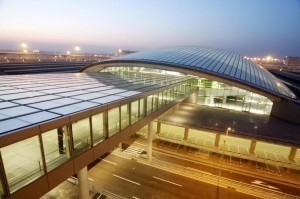 United Arab Emirates. Its surface area is over 1,500,000 sq m or 12,760,000 sq ft.
Dimensions of Terminal 3
The area of Terminal 3 makes it the biggest building in the world. When it is fully built it will be able to handle over 43 million passengers. The space it occupies is equal to 370 acres. Although not yet finished, 27 million passengers can be accommodated.
The well built arrival and departure halls measure 10 m or 33 ft. The world's biggest airport terminal possesses 157 elevators, 82 walkways, over 25 truck lifts and 97 escalators.
Terminal 3 also has 8 sky trains. The edifice has numerous lounges and restaurants. There are currently 2,900 car parking spaces and 180 check in counters. The shopping facilities alone occupy thousands of sq ft.
The Baggage Handling System
The baggage handling system of Terminal 3 is the largest in the world. There are 21 screen injection points and over 90 km of conveyor belts. The baggage handling system can process 8,000 bags an hour.
It also has 49 make up carousals. The conveyor belts can also process over 14,000 items hourly at speeds of 27 km/h. The system is also equipped to deal with 4,500 early baggage storage positions.
Departure, Arrival and Retail Areas
The biggest airport terminal in the world has 36 check-in counters for first and business class. This does not include the 126 for the economy class. Currently it has 18 self service kiosks, 3 lounges (built for unaccompanied minors) and 12 e-gates.
The terminal also has 38 counters (economy) and 10 for business and first class. The arrival area has 52 immigration counters, a dozen e-gates and 14 baggage carousels.
The retail area encompasses 4,800 sq m or 52,000 sq ft. The food court measures 2,000 sq m (22,000 sq ft) with over 10 food outlets. The park has room for 1,870 cars and 44 Emirates bus spaces.
There are 163 car rental spaces and a mosque measuring 850 sq m (10,200 sq ft). The whole car park measures 177,500 sq m (1,911,000 sq ft). The biggest airport terminal also has a check in hall 4,500 sq m (48,000 sq ft).
Concourse 2
This is linked with Terminal 3 and is 950 m (3,100 ft) long. The built up area measures 670,000 sq m (7,200,000 sq ft). It is 90.8 m (298 ft) wide and 39.5 m (130 ft) tall. It currently has 10 floors. It also has 26 gates with 59 passenger loading bridges. There are also 3 transfer areas with 62 transfer desks.
The concourse also has a first class lounge measuring 6,355 sq m (68,290 sq ft) with a capacity of 800. The business lounge has a capacity of 1,200 while the smallest lounge has a maximum capacity of 140 passengers.
The world's biggest airport terminal is only going to get bigger when it is finished. Even at this stage, it is already one of the busiest airport terminals in the world.