Standard Kitchen Cabinet Dimensions
Knowing Standard Kitchen Cabinet Dimensions will ensure that when you are designing or re-modeling your kitchen, you will be sure that no problems will arise. After all, while of course you can have some cabinets custom made, keeping the sizes standard will in the long run make repair much easier and certainly more cost efficient.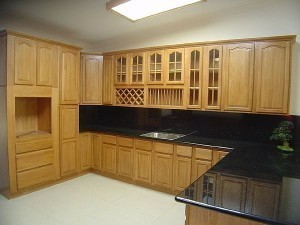 Selecting a kitchen cabinet with standard dimensions will really allow you to save time and money when making or remodeling your kitchen. Cabinets that are custom-made most often are expensive than the standard ones because cabinetmakers or home improvement establishments will have them ordered just for you specifically.
Standard Kitchen Cabinet Dimensions
Kitchen cabinets have been continuously made in standard dimensions for several years now. One major reason why cabinetmakers continue to manufacture them and consumers continue to purchase them is that standard dimensions are really tried and tested to be very efficient.
Standard Dimensions
Base Cabinets: Base kitchen cabinets have the dimensions of 34.5 inches in height and 24 inches in depth. For wall or upper cabinets, the height is 30 inches or 42 inches and the depth is 12 inches. But there is an exception in the dimensions for wall cabinets that are intended to be above refrigerators. The height of these types of cabinets is usually around 12 up to 15 inches. These cabinets are also as deep as your standard base cabinets.
With the depth of these cabinets set at 24 inches those in your homes won't have a hard time reaching into them even if they had to do it over your fridge. Take note that a kitchen cabinet's standard width would usually begin at six inches and will increase by three inches as you move up to the next size. The maximum width of these cabinets usually reaches up to 48 inches.
Wall Cabinets: Your wall cabinets will usually hang above your countertops at about 18 inches. A base cabinet that would have a countertop in the right position would be about 36 inches. This means that your wall cabinet should be hanging about 54 inches above the floor. However, if you have a wall cabinet that will hang over a stove you should put at least 24 inches worth of clearance in between.
The height of a wall cabinet with a full soffit will be at 30″ and 42″ without a soffit. The depth of your wall cabinet would be at 12.25 inches for a 25 inch deep countertop. For a countertop that has a 30 inch depth, your wall cabinet's depth will be at 30″. The width of all wall cabinets should always match that of your base cabinet.
Countertops: Countertops that follow suit with standard dimensions of kitchen cabinets will have a height of 36 inches. The length per person would be at 21 inches. You'll be working with two depths – 15 inches for one sided seating and a 30″ minimum if you plan to have a two-sided seating design.
As you can see, Standard Kitchen Cabinet Dimensions vary but keeping these measurements in mind will help in the long run.