A space saving phone booth with just the right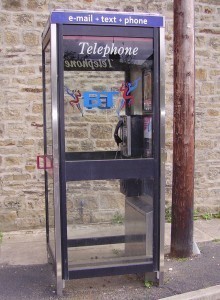 measurements enough to fit one caller can be easily fitted in most places. However, it should not be too small or narrow not to accommodate an average sized user. Here are phone booth dimensions that satisfy space clearance requirements and make a booth easily fit in small areas.
The Booth
The main calling area has the following phone booth measurements. The overall area is a 37 x 37 inches square, or 1369 square inches. The entrance is 32 inches with a height of 80 inches. These phone booth dimensions for an opening easily fits an average person measuring some 24 inches x 72 inches. The inside area is 32 by 32 square inches, or 1024 square inches.
Height
The overall height is 100.413 inches from the ground floor to the roof apex. The effective interior height is 89.028 inches, which is from the floor to the ceiling of the booth. Phone booth dimensions are mostly concerned with the sizes of the aluminum frames and glass wall panels. Since the wall panels are not the two-face type, more space can be used for human clearance. Glass wall panels are merely slid through a groove so the aluminum corner frames can be reduced in size. Often 2 x 2 inch frame members are sufficient to hold the whole booth sturdily.
Roof
The roof has a height of 12 inches or a foot from the ceiling to the roof apex. Phone booths often have gabled roofing to keep rain water off its top. Hence, phone booth measurements often have an allowance of 12 inches at the top for roof inclination. Inside the ceiling may be provided a small lamp for lighting, measuring some 10 inches in length and 4 or 5 inches in width. This is usually in a cove-lighting design. Otherwise, an exposed wall mounted lamp is placed at the top side of a wall with the same phone booth dimensions for lighting receptacles.
Door
The door is usually of a folding accordion type. It folds into two, with each face measuring 16 inches. Phone booth measurements should be just enough to fit in one caller at a time. Bigger ones are possible, accommodating two persons simultaneously, but such are hard to fit in most places.
Directory Desk
Most modern phone booths no longer provide for a desk to keep phone directories on. Phone directory service is now often operator assisted, so this reduces the needed for space allowing for a small directory desk inside the booth.