If you are designing a house, the Shower Dimensions is one of the most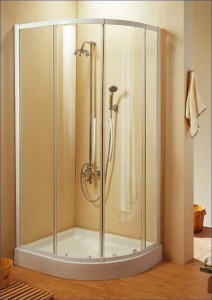 important issues you have to address. Everyone has their own idea of what the ideal size is, but the following should give designers some ideas on where to start.
Common Shower Dimensions
The minimum size used in most homes is 30 x 30 inches. The standard measurement used in many homes is 36 x 36 inches. The 36 x 36 inch size is called the roll-in shower. This size is accessible even for people on a wheelchair.
However, this size is for the average home. For houses with plenty of space, bigger showers are recommended. It is not uncommon in big houses to have the size of the shower at 48 inches x 96 inches.
While lots of space is nice, you probably don't want it too big. Otherwise it will feel like there are two separate showers. There are also houses that have showers measuring 72 by 72 inches.
If you want to create a shower big enough for two people, the 52 inch x 60 inch measurement will be sufficient. An entry of 32 to 36 inches should be set aside.
Design Considerations
If space is not an issue, you can make the shower as big as you want. If you want a shower with all the trimmings –bench, shampoo shelves, jets etc- the size has to be at least 4 x 8 ft or 6 x 6 ft. That would be sufficient for two shower heads by the 8 foot wall.
If you want a steam shower, you shouldn't get anything bigger than 6 x 6' because it will take a long time to steam. Some however, like the size of the shower to be 8 x 5. You can also opt for a 6 x 4 or 6 x 5.
Another thing you have to consider is the configuration. If there is room, you can set it up so there is a shower section and one for the spa. The spa area can include a bathtub or Jacuzzi, chairs and any other items you want to add.
Other Factors to Consider
While a spacious shower is nice, you should also think about the stuff you want to put in there. For a fully equipped shower, there should be a shower cap, shower gel and shower radio. The water heater is another important feature especially during the winter.
You should also think about installing a shower curtain. This is to keep water from flooding or spraying the bathroom. Of course the shower curtain is also used for privacy. Shower curtains can be made of vinyl, cloth or plastic.
A shower door may also be used instead. It is more resilient than a curtain. A good shower door is made of tempered glass and / or aluminum.
The size of the shower needs to be given plenty of thought. Properly designed, it can be the perfect place to start the day or wind down after hard day at work. Shower dimensions depend on a lot of things but ensure you get the right one for your needs as this is one area you don't want to make a mistake in your home.