Biggest Passenger Airport
This list of the biggest passenger airports are based on the passenger information provided by the Airports Council International and BAA). The definition of passenger is one that arrives, transfers or leaves the airport any day. These are 2010 year to day statistics.
The Top Five
The busiest and biggest in terms of passenger traffic is Hartsfield–Jackson Atlanta International Airport. The total passengers number 67,075, 694. The airport is in Atlanta, Georgia, United States. The concourse space is 5,800,000-square-foot (539,000 m2).
The second largest is the Beijing Capital International Airport. Located in Chaoyang, Beijing, China, the passenger total is 55,286 054. O'Hare International Airport has the third most passengers with 50,253,644. The airport is in Chicago, Illinois, United States.
London Heathrow Airport is at number four. With 49,717,240 passengers, it is the busiest airport in Europe. It is in Hillingdon, Greater London, England, United Kingdom. At number five is Tokyo International Airport. It is the second biggest passenger airport in Asia with 47,634,644. The airport is in Ota, Tokyo, Japan.
Number Six to Ten
Los Angeles International Airport is at number six with 44,198,130. The airport is in Los Angeles, California, United States. At number seven is Paris Charles de Gaulle Airport, the busiest airport in France. It has a total of 44,160,405 passengers. It is found in Roissy-en-France, Val d'Oise, Ile-de-France, France.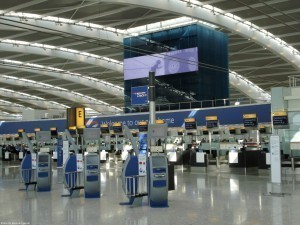 Dallas-Fort Worth International Airport is the eighth biggest. Located in Dallas/Fort Worth, Texas, United States, it has a passenger total of 42,572,338.
At number nine is Frankfurt Airport. With 40,081,513 passengers, it is the largest airport in Germany. It is found in Flughafen (Frankfurt am Main), Frankfurt, Hessen, Germany. At the tenth spot is Denver International Airport with 39,507,258. It is in Denver, Colorado, United States.
Other Large Airports
The Madrid-Barajas Airport is at number 11 with 37,836,882 passengers. It is in Madrid, Comunidad de Madrid, Spain. The 12th slot is occupied by Hong Kong International Airport. It has 37,613,000 passengers. The airport is at Chek Lap Kok, Hong Kong, China. John F. Kennedy International Airport is at the 13th place. The passenger total is 35,038,016. Its location is Queens, New York City, New York, United States.
Number 14 among the biggest passenger airports is Dubai International Airport. Located in Garhoud, Dubai, United Arab Emirates, it is the busiest airport in the Middle East. The passengers total 34,838,359. The Amsterdam Airport Schiphol is at number 15 with 34,140,179.