Handicap Toilet Dimensions
Persons with disabilities often find it hard to fit through doors or move around in certain places because the spaces are too narrow and not designed for physically-challenged individuals.
This is even more apparent for people who are wheelchair-bound. Thankfully, in certain countries specifically in the United States, there is now a mandatory standard dimension for buildings and other structures to allow people with disabilities to move around quite comfortably.
For example, the Americans Disabilities Act otherwise known as ADA has set specific measurements for toilets to enable physically-challenged persons to use the toilet with ease.
Handicap Toilet Dimensions
Handicap toilet dimensions were specifically determined to allow physically-challenged individuals to gain easy entry to toilets, allowing them to maneuver their wheelchairs without problem.
For instance, clear floor dimensions are specified to be no less than thirty inches by forty-eight inches to allow access for one wheelchair at a time.
Lavatories on the other hand, should at least be extended seventeen inches from the back wall and a clearance of at least thirty-four inches from the floor to allow persons in wheelchairs to easily reach the lavatories.
Meanwhile, the countertop must be no more than thirty-four inches high.
Toilet Stalls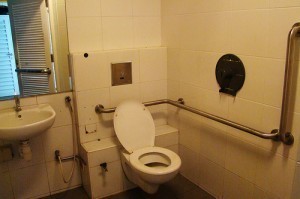 Toilets stalls are also specified under the ADA handicap toilet dimensions. The width should be no less than sixty inches and horizontal grab bars must be installed behind the toilet and also on the wall closest to the toilet.
Handicap toilet dimensions likewise require that the toilet seats have a height ranging from seventeen inches up to nineteen inches from the floor.
Urinals
For urinals in men's rooms, the elongated bowl has to have a rim that is at most, seventeen inches above the floor. While there is no specific requirement for the extension size of the urinal from the wall, certain states in the US require that handicap urinals be extended at least fourteen inches from the wall.
For both the toilet seats and the urinals, flush controls should be no more than forty-four inches above the floor.
Handicap Toilet Fixtures
You can find toilet fixtures sized according handicap toilet dimensions readily available in the market today.
In the United States, there are ADA-compliant bathroom sinks, bathroom sink faucets, grab bars and toilet seats that are available both in land-based and online stores that specialize in bathroom fixtures.
These also come in different designs, colors and materials to enable you to get fixtures that will blend well with the interior design of your bathrooms.