Articulated hauler sizes differ and so are their capacities.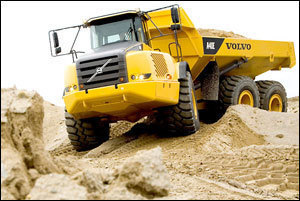 The capacity of most modern haulers is around 20 to 25 tons, with some of the newer models having a capacity of over 30 tons. The largest haulers have a capacity of over 50 tons. These vehicles are used to carry loads over uneven terrain.
Design
In terms of design, the hauler is a cross between an articulated loader and tractor trailer. These machines are made up of two units, the rear section (called the trailer section or hauler) and the tractor. The trailer has the dump body.
Note that articulated haulers are not the same as the rigid hauler. The articulated haulers currently have a limit of 50 tons, while rigid haulers have a payload of 400 tons.
Whatever the articulated hauler size, the vehicle utilizes a hydraulic frame cylinder for turning the front frame which has the tractor. This is not dependent on the frame.
Features
The power of the articulated hauler is in the drive system and the coupling. The drive sections and the power are independent from the load section in the coupling system. The two components are connected via an oscillating system.
This makes it possible for the units to move at the centerline. The haulers have a wide body. These haulers are also capable of loading from loaders and excavators.
Hauler designs are always being improved. For example, the Volvo E Series for example, comes with automatic leveling and suspension on the wheels. The full suspension feature is designed to improve off- road performance.
This also allows the vehicle to travel at faster speeds compared to other haulers. The E Series are also capable of absorbing the rough areas on the road. The features allows the vehicle to move at 55 km/h with little braking or rolling.
The Many Applications of Articulated Haulers
Because it is easy to use, the hauler has become a fixture in construction and roadwork sites. They are also used for building airport runways. Haulers are also utilized extensively in landfill work.
Aside from loading and unloading materials, they can also transport materials to the site. Their large sizes make it easy for thee vehicles to carry loads over long distances.
The articulated hauler size, especially the capacity, has to be assessed thoroughly by the contractor. For this reason it is crucial that contractors have to evaluate the features of these haulers carefully.