How High a Bucket Truck can Reach?
The bucket truck lift heights range from 15 feet to 160 feet.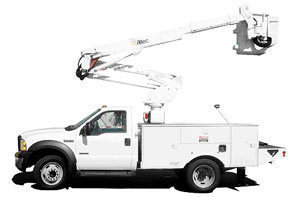 Other models have a working height of 2.8 m and a working radius of 11 m. The rated loads vary too, with some reaching 200 kg and others exceeding that figure.
Purpose
These trucks are used to lift materials or people. They are widely used in maintenance, sign fields, utilities and many other tasks. These trucks have different features but stabilizers and power take off are commonplace. The type of truck to get will depend on the task.
Forestry Bucket Trucks
The main criteria here will be the bucket truck lift height. As a rule, the working height should be higher than the trees. If the trees are below 45 ft, a 50 ft working height will be required. The single bucket will do in most cases, but the dump bed is optional. A utility bed is not needed, but a flatbed with numerous storage boxes will be required.
Line or Utility Bucket Trucks
The first rule is to get a truck with a utility bed; the more space, the better. You will need either a 2-man tub or 2-single buckets. The insulated boom is widely used. An over-center boom or material handler may be needed as well.
Sign Bucket Trucks
These are available in different kinds, but the most popular is the 2-man metal basket, although their heights differ. The crane lifting capacity varies, with 8,000 lbs not uncommon. There are also some models with welders included.
If it will be used for electrical works, the insulated boom is required, as well as the rear mount. If it is for landscape or trees, the rear or front mount, single bucket and insulated boom will be sufficient. For signs and advertising, a ladder may be used instead of the boom. In all cases, various heights may be used.
New or Used Bucket Trucks
If the truck will be used extensively, it is better to get a new truck, as it will have a warranty. But if usage will be limited, a refurbished secondhand model will suffice. If you will be using the truck only 30 days a year or less, renting a bucket truck is financially more sensible.
As the facts bear out, the bucket truck lift heights differ. The highest isn't always the best, but instead the specs should depend on the type of work you have to do.