Truck Bed Dimensions for Mazda Trucks
The truck bed dimensions for Mazda trucks B-2300 is as follows. It has a loading floor height of 28.5 inches. The length is 71.8 and the height is 16.5. The width between the arches is 40.5. The front is 52 inches wide. All these measurements and the following are all in inches.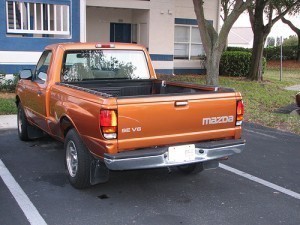 2009 Mazda B-2300 Specifications
Its overall length is 187.5. The gross vehicle weight rating is 4,280 lbs. The maximum payload is 1,281 lbs and the gross trailer weight is 1,600 lbs. The curb weight is 2,999 lbs. The wheelbase is 111.6 inches and the ground clearance is 6.7 inches. Its height is 64.9 inches. It is 69.4 inches wide. Its performance specs is as follows: 143 HP ( 107 kW) @ 5,250 rpm, 16.5 gallon main unleaded fuel tank, fuel economy and multi-point injection fuel system.
Exterior Features
Apart from the truck bed dimensions for Mazda trucks, the exteriors are also worth noting. Its features include windshield wipers with variable intermittent wipe, tinted glass on cabin and rear, fixed rear window and straight side pickup bed. The paint is metallic and there is a luxury trim carbon fiber look on dashboard.
Interior Features
Among the most notable are a ventilation system, a tachometer, plastic steering wheel and two speakers. There are also cloth seat upholstery with additional cloth, power steering, three rear seats and a low tire pressure indicator. The internal dimensions are as follows: front shoulder room (inches): 54.5, front leg room (inches): 42.4, front hip room (inches) and front headroom 39.2, (inches).
There are a couple of head restraints on the front seats and front seat center armrest. The floor covering is rubber/plastic at the passenger compartment. There are also front seat cup holders, courtesy lights, a clock and a front seat cigar lighter. Extra features are included in some models.
The B-Series Trucks
These trucks are a joint venture of Mazda and Ford. The first model was built by Mazda in 1961. The engine type is taken from the engine displacement. The larger variants are known as the Mazda Titans. The more compact versions are called Proceed also in Japan. In South Africa they are known as Mazda Drifter, Magnum / Thunder / Fighter in Thailand and Bounty in New Zealand.
The truck bed dimensions for Mazda trucks differ. Those stated here are only for these models. With other trucks, the specifications will be different. You should get in touch with the seller for more information.