Selecting the right bed sizes for RVs can be perplexing due to the sheer number available. Although the labels and names are the same as home beds, the dimensions may not be. A full bed for home may not be as big as that for motor homes. As a rule, the RV king or queen beds are shorter than those used in residences.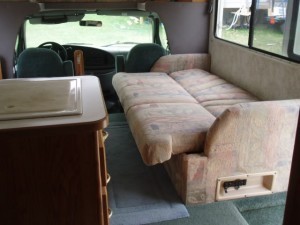 Common Dimensions
They are 60″ x 79″ residential queen, 60″ x 74″ RV queen (short queen), 53″ x 79″ full XL, 53″ x 74″ residential full, 49″ x 74″ RV full 38″ x 74″ residential twin and 34″ x 74″ twin.
Features to Look For
A mattress for RVs has to be durable. Poorly made beds will sag along the sides or the center. You need a new mattress if the bed is making noises. Check the bed for support around the edges too. While you want a strong bed, make sure that it's comfortable. The bed should not give you back problems. This will be your home away from home. While bed sizes for RVs may be smaller than those at home, you should still be able to get a good night's sleep.
Quality
The quality of RV mattresses vary greatly. Some are top notch while others are inferior to home beds. The ideal solution is to find a residential-quality mattress. Aside from the size guide given earlier, you also have to look at the thickness. The minimum has to be 8 inches.
Variants and Safety Features
Three mattress types are available: innerspring and plush, premium-quilted pillow top. Safety must also be factored in. It is vital the mattress adheres to your country's regulations and guidelines. Avoid those beds that use chemicals that don't correspond to fire standards.
The ideal mattress is the one that utilizes fire retardant rayon fibers. In the USA, mattresses must correspond to the Federal Fire Safety Standards (CFR 1633).
Space Availability
Do not choose mattresses that cannot be comfortably set in your vehicle. The majority of motor homes work with specific bed sizes for RVs. That is why the lengths and widths are different from their home counterparts.
If you are still shopping for an RV mattress, look for a brand that offers mattresses in standard residential and RV dimensions. The most comfortable ones can rival residential beds in terms of comfort. But they are the most expensive. If you are going to buy one, consider the shipping costs too.