What is the Size of a Military Engineering Vehicle?
A military engineering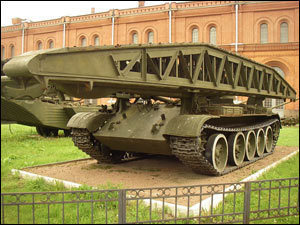 vehicle is a vehicle made for transporting engineers or for various military engineering tasks. As the following will show, they are also used in other ways.
Military Engineering Vehicle Size: the M728
The US military has created several of these vehicles, so their specifications vary. The M728 Combat Engineer Vehicle weighs 52.2 metric tons and is 29' (8.83 m) long. The M728 is 12.1' (3.7 m) wide and 10.8' (3.3 m) high.
It is operated by four crew members: the commander, driver, gunner and loader. It has 0.51"–5.6" (13–143 mm) armor. The primary armament is 165 mm M135 gun (30 rounds). The secondary armament is .50 cal M85 machine gun (with 600 rounds) and 7.62 mm M73 machine gun (2,000 rounds).
Aside from the military engineering vehicle size, the engine and other specs have to be considered. The M728 uses an AVDS-1790-2DR V12, air-cooled twin-turbo diesel engine. It has torsion bar suspension with an operational range of 280 miles (450 km). The speed is 30 mph (48 km/h).
Types of Military Engineering Vehicles
Armored Engineering Vehicle (AEV)
The armored engineering vehicle is known by various names. In the UK it is called Armored Vehicle Royal Engineers (AVRE) and in the US it is combat engineer vehicle (CEV).
While the names vary, some features are common like lifting booms, excavator arms, winches, augers and a demolition cannon. These are designed for obstacle breaching work. They are also used for earth moving tasks. Examples include the Russian IMR and UK Trojan AVRE.
Armored Earth Mover
These are made for earth moving tasks right in the battlefield. Compared with other heavy equipment, these are more mobile. They are also designed to withstand fragmentation and blasts. Examples of these are the UK FV180 Combat Engineer Tractor and the American M9 ACE.
Breaching Vehicles
Breaching vehicles are fitted with mechanical devices for removing man made obstacles and hurdles. Breaching vehicles include mine roller vehicles, mine plough vehicles and mechanical flails. Some of these vehicles are also capable of setting up mine-clearing line charges.
There are also breaching vehicles that can be used for fighting. There are many kinds of breaching vehicles. These include the Singaporean Trailblazer, the UK Aardvark JSFU and the USMC M1 Assault Breacher Vehicle. Other countries have similar vehicles.
The military engineering vehicle size and the specs can change very quickly. This is because militaries around the world are often upgrading their equipment. For this reason, the features of these vehicles may be replaced and improved upon rapidly.