Truck Bed Dimensions for a Ford Ranger
Truck bed dimensions for a Ford Ranger depend on the model. The 1995 version has a bed measuring 69.4 inches wide. The cargo capacity is 37 cubic feet. The length is 6 feet for the super cab regular. The long bed is 7 feet long. Because of the extra length, its capacity is bigger at 44 cu ft. The flare-side "Splash" has the same specs as the standard trucks. There is no long bed version for these.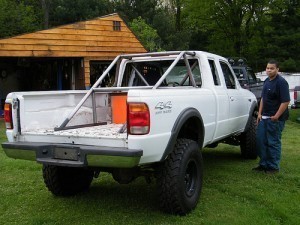 Specifications
All the 1995 models can tow up to 6,000 pound lbs. The Splash variants have a 1,050 lb capacity. The long bed and standard models can pull 1,250 lbs. The super cab variants have a towing limit of 5,900 lbs. The Splash super cabs have a capacity of a thousand pounds. The base capacity is 1,200 lbs for the standard and long-bed super cabs.
First Generation (1983–1988)
The 1989-1992 models are 66.8 in (1,697 mm) wide. The 1983-1988 models are 66.9 in (1,699 mm) wide. The truck bed dimensions for a Ford Ranger vary especially with the length. The 1983-1988 long bed is 192.7 in (4,895 mm), while the 1989-1992 versions are 193.6 in (4,917 mm).
The SuperCab 1989-1992 is 188.5 in (4,788 mm) and the 1983-1988:187.6 in (4,765 mm). The standard bed length is 176.5 in (4,483 mm) for the 1989-1992 versions and 175.6 in (4,460 mm) for the 1983-1988. The wheelbase is 125 in (3,175.0 mm) / 113.9 in (2,893 mm) / 107.9 in (2,741 mm).
Second Generation
This model is 69.4 in (1,763 mm) wide. The length is 198.2 in (5,034 mm) / 196.3 in (4,986 mm) / 184.3 in (4,681 mm). The wheelbase is 125.2 in (3,180 mm) / 113.9 in (2,893 mm) / 107.9 in (2,741 mm).
1998–2012
This version also has several variants. One model is 69.4 in (1,763
mm) high while the other is 68.3 in (1,735 mm). The width is 70.3 in (1,786 mm). There different lengths are available: 125.9 in (3,198 mm) / 117.6 in (2,987 mm) / 111.6 in (2,835 mm). This version of the Ranger is an upgrade of the older models. Its cab is three inches longer. The wheelbase has also been extended. However, the appearance of the 1995–97 models were kept.
The truck bed dimensions for a Ford Ranger are always changing because new models are being developed. The bigger beds are not necessarily the best. It all depends on how you will use it.