Major League Soccer, or simply MLS, is the premier socce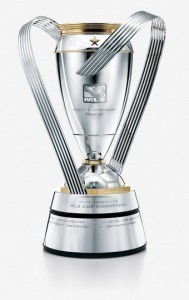 r league in Canada and the United States. Established in 1993, it is comprised of 16 teams, one of which is based in Canada while the rest is in the U.S. The champion team is to be presented with a beautiful trophy called the MLS Cup. In 2008, it was renamed as the Philip F. Anschutz Trophy. In addition to these basic facts, it is also good to know the different MLS Trophy dimensions.
The Dimensions of the MLS Trophy
The MLS Trophy stands 24 inches high, which features a seamless base measuring 4.625 inches. It comes with 11 facets, which are located at the back and front parts of the trophy. These facets represent the 22 players competing in a match. The gold star is used to represent the winning team. At the bottom part of the trophy, there is a map of North America, wherein small stars are used to represent the different MLS teams.
Additional Facts and Other Interesting Details
Since the 2008 season, winning clubs are awarded with the Philip Frederick Anschutz Trophy. It was named after an American entrepreneur named Philip Anschutz, which co-founded numerous teams in the league including the Kansas City Wizards, the San Jose Earthquakes and the Chicago Fire. Before this significant name change, it was officially called the Alan I. Rothenberg Trophy, which was named after the founding chairman of the league.
The top four soccer clubs with the most number of Philip Anschutz Trophies are the San Jose Earthquakes, the Houston Dynamo, the Los Angeles Galaxy and the D.C. United. Aside from them, soccer clubs like the Real Salt Lake, the Columbus Crew, the Kansas City Wizards and the Chicago Fire each owns one MLS Cup. Teams such as the New York Red Bulls, the Colorado Rapids and the New England Revolutions have been to the MLS Finals. Despite their numerous trips to the MLS Playoffs, none of these clubs has yet to win a championship.
Three of the most recent champions of the MLS are the Houston Dynamo, the Columbus Crew and the Real Salt Lake. In 2007, the Houston Dynamo defeated the New England Revolution in the championship game with the final score 2-1. It was held at the RFK Stadium in Washington D.C. before an attendance of 39,859.
In 2008, Columbus Crew outlasted the New York Red Bulls in the final game of the season with the score 3-1. The event was held at the Home Depot Center within the City of Carson in California in front of 27,000 spectators. In 2009, Real Salt Lake bagged the championship trophy after defeating the Los Angeles Galaxy in a game that was held at the Qwest Field within the City of Seattle in Washington. Performed in front of more than 46,000 spectators, the game ended with a penalty shootout with the final score 5-4.