A Balikbayan Box is a type of box made of cardboard that Filipinos abroad send home via air or sea freight forwarding services. Oftentimes, this box is also used by people from the Philippines who are going to be traveling abroad.
The box is loaded with various items, from clothes to food products and anything else that you may want to ship or take with you, provided that the items are within the Customs regulation of the country where the box will be shipped or brought.
Depending on the number and the size of the items, there is a specific Balikbayan Box Size that you can use to accommodate all the things that you want to place inside the box.
Choosing a Balikbayan Box Size
There are several sizes for this type of box that you can choose from. In the Philippines, this box is usually available in major supermarkets as well as office supplies stores.
Abroad, this box is often supplied by the freight forwarding service of your choice.
Basically, there are five different sizes of Balikbayan Boxes that you can use. The standard size is what is referred to as a Large Balikbayan Box. This box measures approximately 18 x 18 x 24 inches or about 4.5 cubic feet.
The smallest Balikbayan Box are called Minis and these measure about 12 x 12 x 12 inches or roughly around 1 cubic feet.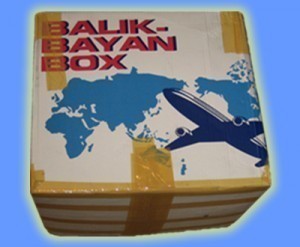 A Medium Balikbayan Box on the other hand, measures approximately 18 x 18 x 16 inches or 3 cubic feet; while an Extra Large Balikbayan Box has measurements of around 24 x 18 x 24 inches or about 6 cubic feet.
There is also a Jumbo Balikbayan Box that measures approximately 24 x 24 x 24 inches.
Depending on your freight forwarding service, they may simply have the standard size up to the Extra Large while others supply all five box size options.
Packing a Balikbayan Box
Usually, contents of a Balikbayan Box are intended for several people and to avoid confusion as to which items go to whom; the items are often marked with the recipients' names to enable the recipients to know which items are theirs and which ones belong to other members of the family or are intended for friends.
Bottled food products are not recommended for these boxes as these may break while in transit which could results in all the other items inside the box being soiled with the spilled food.
A Balikbayan Box usually takes about thirty up to sixty days to reach the recipients and tracking numbers are supplied by the freight forwarders to allow the sender and the recipient to monitor the whereabouts of their boxes.
Sending these boxes via sea freight is often the choice for senders as this is relatively cheaper.