Interstate 90
The longest of all the Interstate Highways within the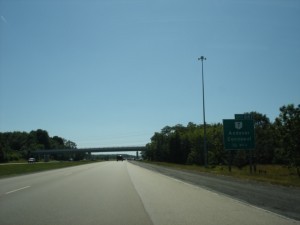 United States of America is the Interstate 90, also called as I-90. The total length of the highway is about 4,987 kilometers or 3,099.07 miles. For the most part of its length, it parallels United States Route 20. It is also the northernmost interstate that spans from one coast to the other.
The western end of Interstate 90 is found at 4th Avenue S just right next to Qwest Field and Safeco Field in Seattle, Washington. The eastern end of the interstate highway is found at Route 1A close to Logan International Airport in Boston, Massachusetts. The interstate traverses through the Continental Divide east of Butte, Montana right over the Homestake Pass.
Majority of the portions of Interstate 90 in the eastern part of the border of Wisconsin and Illinois is tolled. The following toll roads are servicing this interstate highway: Massachusetts Turnpike which includes the Ted Williams Tunnel, New York State Thruway, Ohio Turnpike, Indiana Toll Road, Chicago Skyway, and Jane Addams Memorial Tollway. There are also some sections of the interstate highway that are free like downtown Chicago, Pennsylvania, Greater Cleveland and the remainder of the northeastern part of Ohio, western Massachusetts, and over the short portions of the interstate close to Buffalo, Albany as well as Boston.
Length by State
The list contains the length of Interstate 90 by state that the interstate highway passes through.
Washington – 299.62 miles or 477.85 kilometers
Idaho – 73.55 miles or 118.37 kilometers
Montana – 551.68 miles or 887.84 kilometers
Wyoming – 208.8 miles or 336.03 kilometers
South Dakota – 412.76 miles or 664.27 kilometers
Minnesota – 275.7 miles or 443.70 kilometers
Wisconsin – 187.14 miles or 301.84 kilometers
Illinois – 123.89 miles or 199.38 kilometers
Indiana – 156.28 miles or 251.51 kilometers
Ohio – 244.75 miles or 393.89 kilometers
Pennsylvania – 46.4 miles or 74.67 kilometers
New York – 385.48 miles or 620.37 kilometers
Massachusetts – 135.72 miles or 218.42 kilometers
History
Interstate 90 is making heavy use of roads that are in existence before the construction of the interstate highway. Toll roads that predate the interstate such as Northwest Tollway, Chicago Skyway, Indiana Toll Road, Ohio Turnpike, New York State Thruway, and Massachusetts Turnpike were all use as portions of the route. Do not be surprised if there are sections of the route that are not exactly according to the standards of interstate highways however they are usually close to the standards after all. Traveling this route at 75 miles per hour, one can cross the whole length of the road for 41 hours.