The largest shopping mall in the world is the Dubai Mall. It measures over 12 million sq ft. This is equivalent to over fifty football pitches. However, it is only sixth in terms of leasable area. The mall opened on November 4, 2008. It has over 1,200 shops.
The leasable space is 3.77 million square feet (35 ha). The internal flooring area is 5.9 million square feet (55 ha). The Dubai Mall also has 3 car parks with over 14,000 parking spaces. The mall is part of the 20-billion-dollar Burj Khalifa complex.
The architecture of the mall is such that there are fifteen "malls" inside it. These encompass more than 9 million sq ft (84 ha). It has the biggest Gold Souk with more than 220 retailers. There is also the Fashion Island (Avenue) with 70 stores, and the 850,000 sq ft (79,000 m2) Fashion Catwalk atrium.
Other attractions in the largest shopping mall in the world include the WaterFront Atrium, the Oasis Fountain Waterfall and the 76,000 sq ft (7,100 m2) SEGA Republic theme park. The park has over 150 amusement games. It is on the second floor of the mall.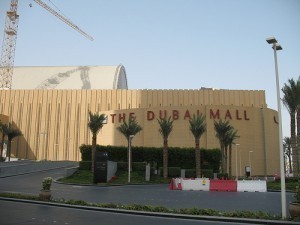 There is also KidZania, an 80,000 sq ft (7,400 m2) kids' play / educational center. It also has the 22 screen Cineplex and the Grove. The Grove is a streetscape that has over 160 beverage and food options. There are also supermarkets, an organic market and more than 200 jewelry stores.
Other Features of the Dubai Mall
The mall also has 22 cinemas, a 250 room luxury hotel and more than a hundred restaurants. The Aquarium and Discovery Centre is the biggest acrylic panel in the world. It weighs 245,614 kg and measures (32.88 m wide × 8.3 m high × 750 mm thick.
The viewing panel is 750 mm thick. This means it can handle pressure of up to 10 million liters of water. Over 12,000 marine animals can be seen there. It is also the biggest suspended aquarium on the planet.
The Dubai Ice Rink uses ice three times thicker than those used in the National Hockey League. It can accommodate over 2,000 people when used as multimedia center.
The largest shopping mall in the world gets over 30 million visitors annually. It is estimated that over 700, 000 people go there every week. It has won numerous awards of its design creativity and architecture.