How Big Is Mall of Arabia World
Tourism is a great asset to any country or city or state. That's why it is quite understandable that governments pay serious attention to strengthening their tourism appeal. Everyone knows it can help boost every nation's income.
A recent construction in the Middle East made sure that tourists would be flocking in no time since it was started. It was set to be the biggest mall the world would ever know. Why not? The Mall of Arabia World or simply the Dubai Mall is huge in every sense of the word.
Big in Size, Big in Profits
How big is Mall of Arabia World? Well, it has a total retail area of 3,770,000 square feet. It has four floors and 14,000 plus parking. It is definitely the biggest in the Middle East with a gross area of 12 million square feet. Since 2003, the biggest mall in the Middle East had been the City Stars located in Egypt, which has a gross area of 8 million square feet. That feat was obviously surpassed by the Mall of Arabia World.
The Mall of Arabia World opened in November 4th of 2008. When it did, it introduced about 10 to 15 malls within the mall, which were intended to offer a different attraction to mall goers and shoppers alike. Entertainment venues and theme parks were also packed within the huge floor area to give the guests a complete serving of features they should be looking for in a visit.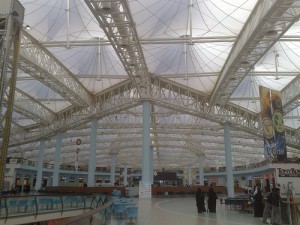 Poised to garner a huge income, the Mall of Arabia World can accommodate 1,200 different retail shops. 220 of those retailers will be placed at the Gold Souk, the largest in the world. The Dubai Mall will also have a Fashion Island, which will house 70 stalls dedicated to haute couture, a Waterfront Atrium, and a Fashion Catwalk Atrium among others.
Another wonderful attraction at the Mall of Arabia World is its ten million liter aquarium, which is recognized by the Guinness World Record for having the largest acrylic panel. It displays 33,000 marine animals for everyone to enjoy.
On top of all that, the Mall of Arabia World also houses 250 luxury hotel rooms, 22 cinemas, and over a hundred eating joints.
True enough, you will never wish to be anywhere else when you are at the Mall of Arabia World. It is complete; it offers fun activities for every member of the family; it is a major shopping complex that you would find hard to ignore.