A place where people can skate and play various kinds of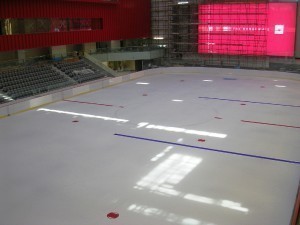 winter sports, an ice rink is made up of a frozen body of water. It is used for ice shows, figure skating contests as well as ice hockey. The term 'rink' is a Scottish word that means 'course.' An ice rink can be classified into two major types, namely artificial and natural. Aside from these basic facts, there are more to learn about it such as the different ice rink dimensions.
The Dimensions of Ice Rinks
Ice rinks come in different shapes and sizes depending on the purpose. Some rinks are made for speedskating. For short tracks, the normal size is 30 by 60 meters, a measurement that is used in official Olympic Games. For long tracks, the average length is 400 meters. For the winter sport called bandy, teams usually compete in rinks that measure 90 to 110 meters by 45 to 65 meters.
For ice hockey, the international-size rink measures 61 by 30 meters, the corner radius of which is 4.2 meters. In North America, ice hockey rinks are commonly 61 by 26 meters, which is followed by the National Hockey League. These dimensions were derived from the measurement of the Victoria Skating Rink, which is found in the City of Montreal in Canada. For Olympic ice hockey and other international competitions, the average size of rinks is 60 by 30 meters.
Additional Facts and Other Interesting Details
Ice rinks can be formed naturally, especially those found in open bodies of water like canals, ponds and lakes. In addition, rivers can also form into rinks. These venues can only be used during winter, when the surface of the water is frozen enough to support the weight of humans. Packed snow can be utilized as a reliable containment material.
In case natural ice rinks are unavailable, it is possible to create artificial rinks. To create this, it is important to have pipes, a slab of concrete and a bed of sand. Chilled fluid can pass through the pipes, which may come in the form of water or salt brine combined with antifreeze agents. The very first artificial ice rink in the world is the Glaciarium, which is situated just off the Kings Road within the area of Chelsea in London, England.
When making artificial ice rinks, it is best to have ice that is 2 to 3 centimeters thick. This can be accomplished by allowing water to flow repeatedly on top of the surface. The use of the machine called ice resurfacer is important in maintaining artificial rinks.