2 Car Garage Door Dimensions
In addition to the single-car door and the golf-cart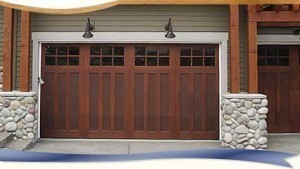 garage door, the 2-car garage door is widely used these days for modern home architecture. This feature is very important, especially for houses with multiple vehicles. Although it offers the same kind of height as the other two main types of garage doors, it provides bigger space for better storage capacity. In order to understand it better, it is good to know the different 2-car garage door dimensions.
The Dimensions of a 2-Car Garage Door
Perfect for relatively bigger houses, 2-car garage doors are available in many different sizes. In terms of height, the standard measurements for this kind of modern house fixture are 8 feet and 7 feet. Aside from these two sizes, some doors measure 9 feet high. In terms of width, the usual measurements include the 16 feet, the 14 feet as well as the 12 feet wide doors. The widest standard garage door width is 18 feet. A particular size is selected depending on how big or how small the house.
Additional Facts and Other Interesting Details
A restraint cable is commonly used for 2-car garage doors that come with extension springs. It can be found right at the middle of the springs. This part is very helpful especially when stress and fatigue have weakened the springs. In case any of the springs fail, this cable can actually prevent anyone from getting hurt or injured. Furthermore, it can prevent the damage of any nearby properties.
Torsion springs are commonly found in most overhead 2-car garage doors. The presence of these devices eliminates the need to have safety restraint cables. It is better to have torsion springs on your doors rather than extension springs because they are easier to balance and fine tune. Garage doors are commonly equipped with spring hardware including lag screws, cable drums as well as setscrews.
In determining the right size of doors that you need for the garage, it is very important to pay closer attention to two key details, namely the height as well as the width of the available space. In case you find it hard to determine the actual size of the door you need, do not be shy to ask the assistance of dealers and experts.
Most 2-car garage doors are made from steel, which is either non-insulated or insulated. Some steel doors are insulated with polyurethane, the primary purpose of which is to make them energy efficient. Aside from steel, it is also common to find doors made from aluminum, polyethylene and wood. Many construction experts believe that steel stamped construction serves as an economical alternative for garage doors.