One of the important considerations in purchasing a queen sized bed is its dimensions.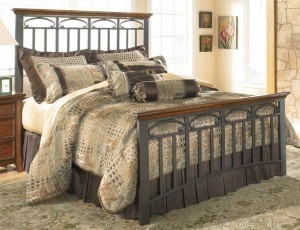 Deciding on what is comfortable will simply just boil down to personal choice. However, if you are aware of the different queen bed dimensions picking out the right one for you will be made a lot easier.
Queen Bed Dimensions
To many people, when you say you want a queen sized bed you are most likely thinking that you'll get a standard large sized bed. In reality, there are various sizes and dimensions to different queen beds. Actually, there are three different sizes of queen beds you will encounter when you're out shopping. You'll find that one of these sizes is quite common.

Standard Queen Bed Dimensions: This is the most common type of queen sized bed that you'll find around. It is 60 inches in width and 80 inches in length.

California Queen Bed Dimensions: This is the queen bed that will suit the people who are taller. They measure 60 inches in width and 84 inches in length. The extra four inches in a California queen bed's length is its distinct feature differentiating it from the other types of queen beds.
Olympic Queen Bed Dimensions: Couples who would want more room to sleep in would want to buy an Olympic sized queen bed. This type of queen bed would be 66 inches wide and 80 inches long. This type of bed adds an extra six inches to the standard size queen bed.
Pros and Cons
If you are interested in comparing a queen bed versus a full bed we've laid out some pros and cons that you might want to know about. If you're after space and space economy and other possible advantages, it would be nice to know what other options may be available to you.
Sleeping Area: Standard queen bed dimensions will give you at least 4,800 square inches of sleep area compared to the 4,050 square inches from a full bed. That means more sleeping space for couples. Two people occupying a queen bed will each have 30 inches of width in sleeping space while a full bed only offers 27 inches for each occupant.
Space Economy: When it comes to space economy both the full bed and queen bed won't occupy a lot of space in your room and still give you their best benefits.

Cost: Comparing the cost, a full bed is indeed cheaper than a queen bed. Given all the above differences, you should consider cost, space economy, and sleeping space when purchasing the right bed for you.