What is the size of Vermont?
One of the states located in the New England region, Vermont is bordered by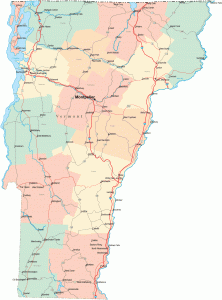 Quebec at the north, New York at the west, New Hampshire at the east and Massachusetts at the north. The capital of the state is Montpelier. Burlington is the largest city in the state. The place has nine cities, which include Newport, Barre and Rutland. In addition to the cities, the state has towns such as the Springfield, Northfield, Bennington and Essex. To know more about this place, let us look at the size of Vermont in terms of area and population.
The Size of Vermont
What is the size of Vermont? The state ranked 45th in the largest states of the U.S. with a total area of 24,923 square kilometers. The length of Vermont is 260 kilometers while the width is 130 kilometers. The total percentage of water in the place is 3.8. The Mount Mansfield is the state's highest peak. The mountain has a height of 4,395 feet. The lowest point in the place is 95 feet. The mean elevation is 1,000 feet.
Vermont is divided into five physiographic regions, namely the Taconic Mountains, the Northeastern Highlands, the Champlain Lowlands, the Green Mountains and the Vermont Piedmont. The state is a home to numerous wildlife species. Additionally, it is very popular for having the Eastern timber rattlesnake, a poisonous snake.
Additional Information and Other Important Details
Aside from the total area, the size of Vermont can also be determined in terms of demographics or population. The estimated population in the place in 2008 is 621,270 while the population density is 25.93 per square kilometer. The median income in Vermont is $48,508.
Various races can be found in the state. These include the African Americans, the Americans, American Indian or the Alaskan Native, Asian and the Native Hawaiian or Pacific Islander. The largest ancestry classifications in the place are French Canadian, English, Irish, German, Italian, Scottish and Native American.
When it comes to religions, migrants or tourists have nothing to worry because the place features numerous religious groups. These include the Christian, Roman Catholic, Methodist, Baptist, Seventh-Day Adventist, Assemblies of God and Episcopal. Additionally, people can find Jews and Muslims in the state.
Tourism contributes to the improving economy of Vermont. Some of the nice and relaxing places to visit in the state are the Sugarbush, the Mad River Glen, the Killington Ski Resort, the Jay Peak, the Mount Snow as well as the Suicide Six.