An object designed to support or buttress a s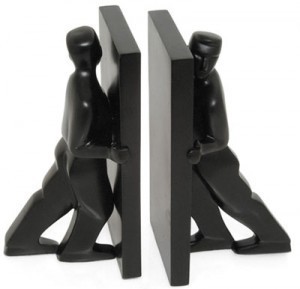 et of books in an upright position, a bookend is very important as it keeps things nicer to look at and more organized. Furthermore, it stops books from falling. In addition, it can be a very good decoration. It is commonly seen inside homes and libraries mainly because there are lots of books in these places. For a better understanding of what it is all about, it is good to know the different sizes of bookends.
The Different Sizes of Bookends
Bookends are available in various shapes, colors, designs and sizes. The average size of a metal bookend is close to 183 millimeters high, 121 millimeters wide and 130 millimeters deep. In case you are looking for something that is just as efficient but relatively smaller in size, the usual dimensions are 85 millimeters high, 106 millimeters wide and 190 millimeters deep. Another size that is quite common for metal bookends is 300 millimeters high, 200 millimeters wide and 150 millimeters deep.
Some bookend designs are intended to capture the interests of children. They usually come in bright colors with interesting animals such as elephants, giraffes and lions. Other products even feature cool designs like fire engines, pirates and ballerinas. Additionally, some bookends even contain images of mermaids, rockets as well as airplanes. One of the most common sizes for this category measures 170 millimeters high and 230 millimeters wide.
Additional Facts and Other Interesting Details
In the past, the bookends were made from very heavy materials. Lighter versions only emerged sometime in the 1870s, a time when the simple sheet metal was originally patented for this specific purpose. Although not necessarily designed for children, some bookends are used as decorations. For instance, finer bookends are made from high quality and pricey materials such as wood, marble and bronze. The use of decorative bookends as well as those with elaborate designs is not that common.
Some bookends have bigger sizes. Compared to smaller versions, they can be used to hold bulky office documents as well as larger books. Examples of these include atlases, directories and catalogues. They can also be used to organize different types of magazines of various thickness and height.
To make things more interesting, some bookends feature uncommon but definitely cool designs. They have highly interesting and attractive themes like the Anubis, Pinocchio and Voltron. For film buffs, they will surely love special themes like the Star Wars, Aliens as well as City Slickers.