It used to be called Mission San Antonio de Valero and was constructed for the purpose of giving education to Native Americans who have been converted to Christianity.
It was also the site of the infamous Battle of Alamo, which took place between the 23rd of February and the 6th of March in the year 1836.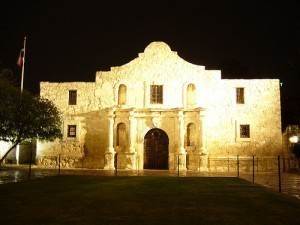 Today, the Alamo serves as a museum and a historical landmark in San Antonio, Texas.
How Big is the Alamo?
The Alamo complex spreads over an estimated area of about three acres or roughly around 1.2 hectares. It is believed that one of the first structures to be constructed within the complex is the housing structure for the priests.
A chapel, a one-story barracks, a two-story barracks, a cattle enclosure and a corral for horses were all part of the complex. It is surrounded by walls that are about two and three-fourths feet thick with heights between nine to twelve feet.
The Alamo Today
Today, the Alamo covers an estimated area of about 4.2 acres and welcomes over two and one-half million visitors per year.
It is arguably the most popular tourist attraction in Texas, with its visitors wanting to see a glimpse of the colorful history that witnessed hundreds of Texans killed during the Battle of Alamo, defending their territory.
While myths have it that none of the defenders survived the battle, historical documents show that women and children were spared and were allowed to go back to their homes.
Visiting the Alamo Today
Historical artifacts are on display at the Shrine and the two museums: the Long Barracks and the Gift Museum. Here, visitors can learn more about what really took place during the Texas Revolution as well as learn bits and pieces about the state's rich history.
For a relaxing stroll, you can walk through the Alamo Gardens.
At the gift shop, you can purchase various items that depict the history of The Alamo including audio CD's and documentaries, books on the 13-day siege and even cookbooks with traditional recipes from the early days of Texan history, Texas and US flags, plus souvenir items such as anniversary coins.
If you wish to visit the Alamo, it is open daily excluding the eve of Christmas and Christmas Day; from 9 in the morning up to 5:30 in the afternoon, Mondays thru Saturdays; and from 10 in the morning up to 5:30 in the afternoon on Sundays.
From the months of June thru August, it is open until 7 in the evening on Fridays and Saturdays.