Hotel Mini-bar Dimensions
Hotels are packed with features that are guaranteed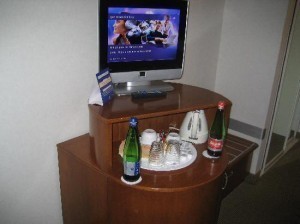 to bring convenience, relaxation and comfort to guests. Most of them offer fine things like carpeted floors, fine furniture and king-size beds. Aside from these interesting things, a nice hotel room is not complete without a reliable mini-bar for storing different kinds of beverages. This particular feature keeps drinks cold, which contributes a lot to the total satisfaction of guests. Additionally, there are more to learn about this all-important hotel feature such as the different hotel mini-bar dimensions.
The Dimensions of Hotel Mini-bars
The mini-bars that hotels feature come in varying sizes, which depend mainly on the specific brands and product models that are used. For instance, the dimensions of the HiPromatic 6000 Standard are 22.38 inches high, 19.31 inches wide and 18.69 inches deep. It comes with ambient shelves, sliding hinges as well as door décor panels. It has a rack for miniatures, a couple of racks at the inner door and two shelves. Furthermore, it comes with state-of-the-art interior light, easy-to-use D-win software and impressive wireless network communication.
Another nice product is the HiPro 4000 Deluxe, which features interior door racks, a modular system for drawers and a couple of spacious pullout drawers. It measures 23.63 inches high, 15.94 inches wide and 18.56 deep. Some of its most notable features include an automatic defrost, an anthracite cabinet and an interior light that is sensor-controlled. Although it does not have a rack at the inner door, it features a couple of spacious shelves.
Next, there is the RH 423 LDAG compact refrigerator. This mini-bar is known to operate silently without compromising its quality and efficiency. It is described as easy to use, eco-friendly and stylish. It offers superior cooling effect to maintain the refreshing and invigorating qualities of beverages. Its dimensions are 18.31 inches by 16.75 inches by 15.13 inches.
Additional Facts and Other Interesting Details
In addition to these standard-size hotel mini-bars, there are other notable products available. The Orbita OBT-40 is a high quality product straight from China. It is described as durable, energy saving and quiet. Its notable features include an ice making apartment, an isolated power cable as well as an aluminum transmission. Its physical dimensions are 15.75 inches by 18.50 inches by 20.16 inches.
Designed for freestanding use, the SilverGiant mini-bar is preferred by many first-class hotels. It comes with wheels for better flexibility. Some of its impressive features include a large compartment, a right door hang and an interior door configuration. It measures 38.39 inches high and 18.50 deep. It weighs about 33 kilograms with a single rack for miniatures and another one designed for cans and bottles.