How Big is Harvard University?
One of the topnotch schools in the United States, the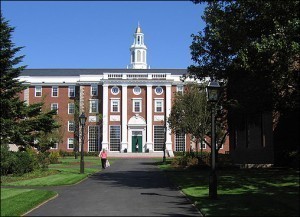 Harvard University is situated at Cambridge in Massachusetts. This institution is the oldest tertiary school in the country. The university was founded by the colonial legislature of the state on September 8, 1636. The institution was named after English clergyman John Harvard who donated 400 books in the school's library and money amounting to 779 pounds. To know more about this school, let us have a brief profile of the Harvard University.
The Size of Harvard University
How big is Harvard University? The size of the institution can be measured in three ways. First, the school's size can be determined by looking at the structures within the premises of the campus. Second, it can be determined by identifying the number of average students in the university. Finally, one can measure the size of the school by looking at the number of non medical staff, medical staff as well as faculty employed.
The total area covered by the campus of Harvard University is 380 acres or 1.5 square kilometers. The academic buildings found within the premises of this institution are a business school, a medical school, a stadium, a school of dental medicine, a school of public health and the graduate school of education. Other structures in the school's premises are libraries, dormitories and residential houses.
The estimated number of students in the school is 19,136. The population of undergraduate students is 6,714 while the population of postgraduate students is 12,422. The estimated number of the staff of the university is 2,401. The non-medical staff of the school is 2,497 while the medical staff is 10,674.
Additional Information and Other Important Details
The institution features nine faculties, which include the Faculty of Arts and Sciences, the Faculty of Medicine, the Harvard School of Dental Medicine, the Harvard Divinity School and the Harvard Law School. The university is also popular for the Harvard Business School, the Graduate School of Design, the Graduate School of Education, the School of Public Health and the John F. Kennedy School of Government.
To reach and help students in the other parts of the country, the institution operate satellite facilities like the Arnold Arboretum in Boston, the Harvard Forest in Petersham as well as the Dumbarton Oaks Research Library and Collection in Washington, D.C. Moreover, the school also operates a satellite facility at Florence in Italy, the Villa I Tatti. This establishment is a research center that conducts studies on Italian renaissance.