A folding screen is an excellent addition to any room in the house or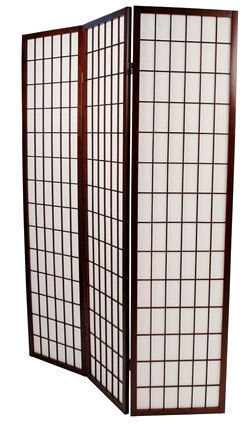 even in your workplace. It provides you with a portable partition that you can easily set-up in any part of your home or office, plus it may come in decorative patterns making the screen more appealing while adding to the aesthetics of your interiors.
Folding Screen Sizes come in different dimensions, giving you a good number of options to find one that will perfectly fit into the space you have allotted for the screen.
They also come in different panel sizes, which means that depending your specified Folding Screen Sizes, you may get a screen with three, four or even up to six panels.
Available Folding Screen Sizes
Depending on the number of panels, there are several sizes that you can choose from. A three-panel folding screen approximately measures 17.5 inches wide, .75 inches in diameter and 69.5 inches high.
A four-panel folding screen meanwhile approximately measures 16 inches wide and 63 inches high, while a six-panel folding screen is approximately 16 inches wide and 70 inches high.
You will find that Folding Screen Sizes have different panel sizes as well, so you can easily have one that measures 17.5 inches wide and 69.5 inches high but with four or six panels.
These also come in different materials, from wood, bamboo strips, metals, plastic and sometimes even paper.
You can find a wide variety of folding screens online, where you can choose designs suitable for the interior décor of your home and bedroom.
Uses of Folding Screens
With a variety of Folding Screen Sizes available today, you will find that these portable screens are very versatile. You may use them both indoors and outdoors, providing you with decorative accents ideal for your living room, bedrooms or any other room in the house; plus your garden or patio.
You can simply use these as accents or you may also use these as a portable sunscreen, strategically placing them in front of your living room or bedroom windows.
On the other hand, if you have a small house where everything is within eyesight from your door, you may also use these screens as partitions.
If your kids are sharing a bedroom, you will find Folding Screen Sizes that are suitable for partitions in kids' bedrooms as well.
Lastly, these folding screens are also ideal for creating a dressing area in your bedroom. If you place it on one corner of the bedroom, you instantly have a small dressing area where you can change outfits privately even if you have company.