The staple gun sizes differ depending on the brand. Some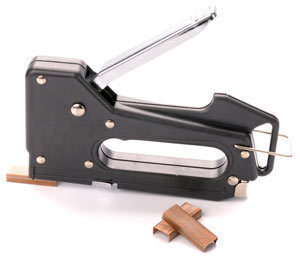 units measure 11 x 3 x 2 inches but others are 12 x 4 x 2 inches. Other sizes like 10 x 2 x 2 inches and 13 x 2 x 3 inches are also commonplace. The tool can be used in many ways, from making a birdhouse to other small projects.
Types of Staple Guns
Some units are run manually while others are powered by electricity. There are also staple guns that work using an air compressor. There are also models that possess guide wires.
These types are used by electricians. There are now reverse built ergonomic staple guns known as forward action. These models have the exit point and handle in the same part. And still other models use brads instead of staples.
How to Use the Staple Gun
Even if the staple gun sizes vary, most of them work in a very simple manner. Press and hold the latch to open it. The latch is typically silver in color and is found at the stapler's back. Remove the tray. Put the staples in it.
When it is filled, you can start using the gun. Position the staple gun's end on the material to be stapled. Press the trigger or squeeze it. In the case of a manual gun, you just have to push the handle in a downward manner.
The Electrical and Rechargeable Staple Guns
The advantage of using this gun is there is no need to apply pressure or even squeeze it. The drawback is that some models are equipped with a very short cord. It means an extension cord is almost always necessary.
The rechargeable staple gun doesn't use cords, so it is not as restricting as the electric type. They are also quite inexpensive. If you are going to buy one, check how long the lifespan between recharges. If you use the tool for long periods, this will be important.
Some Tips and Warnings
Do not allow children with staple guns, no matter what kind you have. Be careful when handling the manual guns. If you exert too much force, several staples may be ejected. After using the tool, put the safety latch back in place. Keep the tool away from kids.
Whichever staple gun size you use, take care not to point it at your face. Keep your fingers away from the area being stapled.