A valve designed to control the release of gas or liquid, the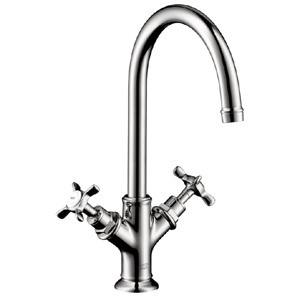 faucet is also called spigot or simply tap. It is commonly fitted into sinks and bathtubs, with the primary function of controlling the supply of water. An indoor tap is found in kitchens, laundry rooms as well as bathrooms. It is available in different shapes sizes and designs. In addition to these interesting facts, it is good to learn about the different faucet sizes.
The Different Faucet Sizes
The standard measurements for a regular faucet are 4 inches long and 3 inches high. However, it is subdivided further into different styles, the sizes of which vary. For instance, a widespread faucet has a distance of 8 inches to 12 inches between its two handles. Next, a mini-spread faucet is known to have separate handles and spout. Its compact design is enough to fit it right into 4-inch center-to-center holes. A center-set faucet has handles, the middle parts of which are 4 inches apart from each other. The standard height of a spout ranges from 3 inches to 7 inches. However, some spouts are higher, measuring somewhere between 8 inches to 12 inches.
One of the highly interesting designs is called the pullout spray faucet. The Price Pfister T52-9YPC pullout spray faucet has a spout measuring 17.19 inches high with a spout reach of approximately 8 inches. It is good for a 2- or 4-hole application. Another nice product is the Kohler K-10433-CP Forte, the spout height of which is 10.31 inches while the spout reach is 10.13 inches.
Bar sink faucets also have interesting designs. The Kohler K-597-CP faucet is suited for a 1- or 3-hole application. It is 16.63 inches high with a spout height of 15.38 inches and a spout reach of 8 inches. Another quality product is the American Standard A7100.241H.295, the overall height of which is 13.75 inches. It has a spout height of 9.38 inches and spout reach of 5 inches.
Additional Facts and Other Interesting Details
In 1845, Rotherham brass founders Chrimes and Guest manufactured the mechanism for the very first screw-down faucet. Older forms of faucet made use of a soft neoprene washer or rubber, which was the primary mechanism used to halt the flow of water and other types of liquids. In engineering, it is referred to technically as a globe valve, which offers a good adjustment flow and leak-proof seal. Alternatives to this particular kind of valve include ball valves or cone valves as well as gate valves.
Today, the more advanced infrared proximity sensors have replaced the standard design of an ordinary valve. This important development eventually led to more convenient hands-free applications.