Benetton Clothing Size Guide
Benetton is a world renowned name for clothes apparel. It has been doing fantastically in the business of dressmaking for so many years now. It has crossed all borders, offered clothes for men and women, for kids, tweens, toddlers, and babies. It has a very huge market that up to day gets all-excited every time a collection is about to unfold.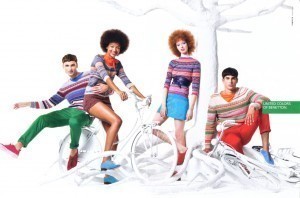 You cannot blame the people. For the quality and style that Benetton has kept on offering all these years, it definitely deserves all the praises and high regard.
Benetton 101
Before we delve deeper on the Benetton style that to this day remains unparalleled, let us first get to know the company behind the brand.
Benetton is an Italian clothing retailer. It is particularly based in Treviso, Italy. It is a family corporation, thus, the origin of the company name is the same family name that has run it through all the years.
Since it was built in 1965, Benetton continue to wow people with every new design, with every new piece of clothing that gets into the market. That's why after several decades, it remains a top brand worldwide. It has over 6,500 stores spread throughout 120 countries and it continues to expand.
Benetton Clothing Size Guide
What is truly amazing about Benetton is that it was able to touch all markets. From the youngest member of the family to the oldest, the brand has something exciting lined up. When looking for a Benetton clothing size guide, therefore, you should not just look for women's or men's. here is a complete listing of sizes of the different markets that the brand caters to:
Women's
Coats 38 40 42 44 46 48
Dresses XS S M L
Shirts XS S M L XL
Knitwear XS S M L
Trousers/Skirts 38 40 42 44 46 48
Jeans 25 26 27 28 29 30 31 32 33
Belt XS S M L XL
Shoes 35 36 37 38 39 40 41
Men's
Shirts S M L XL XXL
Knitwear S M L XL XXL
Suits and Outerwear 44 46 48 50 52 54 56
Socks 39/40 40/41 42/43 44/45 46
Shoes 39 40 41 42 43 44 45 46
Babies
0/1 months 50
1/3 months 56
3/6 months 62
6/9 months 68
9/12 months 74
Toddlers
9/12 months 74
12/18 months 82
18/24 months 90
3/4 years XXS
4/5 years XS
Kids'
6/7 years S
7/8 years M
8/9 years L
10/11 years XL
11/12 years 2XL
Tweens
6/7 years S
7/8 years M
8/9 years L
10/11 years XL
11/12 years 2XL
13/14 years 3XL
Size is an important matter with regards to finding the perfect fit. That's why you should take note of the above sizes and make them your reference for shopping the right kind for you and for every member of your family. Having this size chart around is very helpful, especially for online shoppers everywhere. Through the size chart, you will be able to tell what kind of size you should take to make sure that it fits. Fit is number one consideration for those who are shopping for clothing. That will spell the difference between what looks good and what doesn't; what is comfortable and what is not.