One of the things that first-time parents should take note of is the size of their baby's feet. Together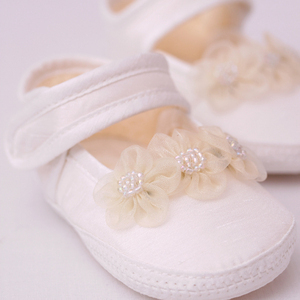 with the other things that may occur along the way in taking care of a child in the baby's early stages of development, the size of the baby's feet may change from one day to the next that is why it may be quite difficult to gauge which baby shoe sizes to get.
As such, feet sizes may change from time to time before they become three (3) years of age. That's a fact that usually drives most first-time parents up the wall. That is why basic guidelines in shopping for the appropriate baby shoe sizes are important.
While guidelines offered by a certain manufacturer may prove to be most helpful, there are still other things that you may have to consider. And that may involve getting different type of shoes for different stages of development for your newborn.
So what's in store for your infant? What are the things that you have to bear in mind?
Here are some types of shoes to learn more about:
The Crib Shoes
When you hear the term "crib shoes," this simply means those shoes for infants from the newborn stage to the older babies at six months. Basically, these types of shoes are often made to be lightweight and soft. They are also breathable in order to make the baby's feet more comfortable when these types of shoes are worn.
To learn what to buy, you have to remember that babies would be more comfortable wearing a size 00. Other sizes that would be all right are those with around 3 and 9/16 inches measurement for the length of the heel to toe. This is equivalent to a size 1 crib shoe. Aside from that you can also buy those crib shoes with a length for the heel to toe measurement of around 3 and 7/8 inches, which is actually equivalent to a shoe of size 2.
The Crawling Shoes
Shoes that usually used when the babies are in the crawling stages of development are also sold in different markets on the Internet and in other nearby shoe shops. Typically, these types have soft soles that are made to protect the baby's feet during this stage. Various styles are sold with sizes of around zero (0) to three (3).
The Walking Shoes
Babies who are from nine (9) months of age to around three (3) years of age usually wear walking shoes that help support their feet in different activities aside from walking. In this stage of development, babies are more active and learn to run, jump, and also climb. That is why manufacturers design their shoes for this stage with durable and breathable materials. For this, sizes range from around two (2) to eight (8).
Even though the aforementioned sizes are – normally – the typical sizes to go for, it still would be a wise move if you would initially check the sizes of your baby's feet before you even search for the baby shoe sizes so that you would know that you are really getting the type of shoe that would be a perfect fit for your baby.