What is the World's Biggest House?
The biggest house in the world is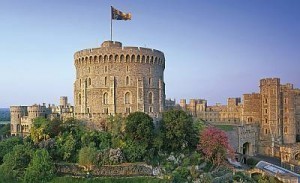 Windsor Castle in Berkshire County. It is one of the official dwelling places of the reigning British monarch, Queen Elizabeth II. Windsor Castle has a floor area of 44,965 square meters or about 484,000 feet or 12 acres.
Windsor Castle is considered the biggest house in the world because it is actively inhabited. The biggest castle no longer dwelled in is Prague Castle in the Czech Republic.
History of Windsor Castle
The history of the world's biggest house follows the history of its royal occupants. It was built by William the Conqueror after he invaded England in the year 1066. He built it in a strategic location, on a hill with a view of the Thames river. Originally the castle was built from wood and earth, but later was rebuilt in stone. Windsor Castle back then was chiefly a fortress. William the Conqueror's youngest son, Henry I, was the first royal to actually live in it.
Henry II improved on William's original design, adding the Round Tower and an outer stone wall. In more peaceful times that followed, Windsor Castle served mostly as a monarch's residence.
In 1350, Edward of Windsor began the task of rebuilding the castle. He had the whole castle demolished, with a few exceptions such as the Curfew Tower. Henry made many improvements such as strengthening the fortifications, adding a new keep and expanding the chapel. Henry also built the Norman Gate as a further line of defense.
Windsor Castle was a preferred residence by England's most famous monarch, Queen Elizabeth I. She regarded it as strong enough to withstand attacks as well. By this time, Windsor Castle had assumed the dual role of fortress and home successfully.
Charles II spent a great deal of effort restoring Windsor Castle in 1660, after the English Civil War. But the castle lost interest for some time after his death in 1685. Much later in 1804, King George III with his brood of 13 children moved back to Windsor Castle.
In November 1992, Windsor Castle was struck by a fire incident during some maintenance work. It took 250 firemen to and over half a day to put the fire out. About 100 rooms were destroyed. It took 5 years and some 37 million pounds to restore them.
Today Windsor Castle is a popular tourist destination in Great Britain. It is open to the public except on Garter Day and major holidays.