The Dubai Mall is the world's biggest mall. The total area is 1,124,000 m2. The gross leasable area is 350,000 m2, the sixth biggest of all the malls in the world. The mall is found in Dubai in the UAE. It is accessed from Doha Street.
The mall was constructed by CCC/ Dutco Balfour Beatty, Al Ghandi. It opened on November 4, 2008 after some delays. More than 60,000 tickets were sold for the Dubai Aquarium and Discovery Centre in the first five days of operation. The first year of operation saw over 37 million people visit the mall.
The interior floor area of the world's biggest mall is more than 6 million sq ft 955 ha). At 3.77 million square feet (35 ha), the leasable space is the same as West Edmonton Mall.
There are fifteen malls in the complex. They occupy more than 9 million sq ft. The space is occupied by more than 1200 stores. The Dubai Mall has 14,000 parking spaces divided into three car parks. There is a car locator included.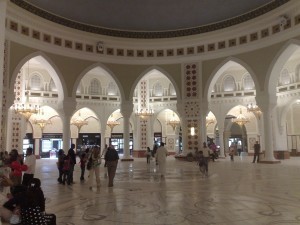 The mall has the biggest Gold Souk with more than 200 retailers. There is also the Fashion Island with more than 70 stores. The Fashion Catwalk atrium is another attraction with an area of 850,000 sq ft (79,000 m2).
The mall also has the Galeries Lafayette department store, the first in the Middle East. There is also the Oasis Fountain Waterfall and the SEGA indoor theme park. This park has an area of over 76,000 sq ft (7,100 m2). It features over 150 games as well as various merchandises.
KidZania is an 80,000 sq ft (7,400 m2) children's entrainment center; the Grove is an immense streetscape with over 200 jewelry stores and more than 150 food and drinks to choose from. The British toy story Hamley's is also there. It occupies an area of over 32,000 square feet (3,000 m2).
The Dubai Mall also has a luxury hotel with more than 250 rooms. There are more than one hundred restaurants and cafes. The mall also has 22 cinema screens. The Dubai Aquarium is the world's largest acrylic panel measuring 32.88 m wide × 8.3 m high × 750 mm thick.
The world's biggest mall also has the world's largest sweets store. Called Candylicious, it covers more than 10,000 sq ft. In March 2010, the Dubai Mall received over 5 million visitors.