Elevator dimensions will vary depending on the manufacturer. The following are the specifications of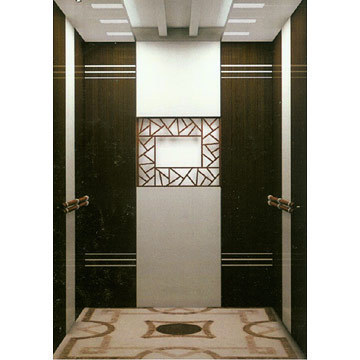 LEV home elevators. Although these specs may not be exactly the same as some other types of elevators, the info can be useful for comparing it with other types.
LEV Elevator General Specifications
The rated load is 950 lbs (430 kg) but there are also 750 and 700 lb types being sold. There are capacity tags and data plates. The speed is 40 fpm (.20ms), while the pit depth is 6" minimum. The overhead clearance is 8'-6" (minimum).
For the hydra ulic drive it is 8'-0". The number of stops maxes out at 5. The minimum travel is 17" per stop. The maximum travel is set at 50.
LEV Elevator Dimensions: Equipment and Car Specs
There are #60 roller chains and power supply is single phase (20 amp, 60 Hz, 208/230V). The chain drive is counterweighted and comes with frequency controlled variable speed. The car dimensions are 40" x 54" (15 sq ft), 36" x 60" (15 sq ft) and 36" x 48" (12 sq ft). The interior car height is 84".
There are other sizes ranging from 12 to 15 sq ft. The wall panels are melamine (white, dark oak, light oak or champagne). The handrails are wood, made to complement the wall panels. A telephone is included in the car.
Safety Features and Controls
The LEV elevator dimensions are considerable, but so are the safety features. There is a 115 VAC lockable auxiliary disconnect for the lighting circuitry of the car. Other safety devices include a pit switch, rope safety, a car stop switch and back batteries. There is also a car gate safety switch.
The controls include a Programmable Logic Controller (PLC) (with a processor) and call acknowledgement with position indicators. These can be stainless steel or brass. The operating panel is brass or stainless steel.
The operations are automated and come with automated homing to the desired floor. Other control features include emergency stop switch, bi-directional leveling, hoistway wiring with conduit (hall stations / interlocks) and emergency alarm button.
Other Features
There is UPS (uninterruptible power supply) for automating gate functions in the event of a power outage. Other options that may be included in the product are unfinished wood veneer (birch, cherry or oak), raised panel wood or 94" and 88" car heights.
Other options include a factory applied wood finishing, recessed phone cabinet and matching veneer for the ceiling and wall.
More options can be included such as metal handrail, automatic hoistway door operator, and an auto car gate operator. There are features that can be added, such as a modem for conducting diagnostics.
You can also add a room elevator controller and buffer springs. The buffer springs will need at least 12" pit. The elevator can also be upgraded and more features implemented. These include the Deluxe Visifold car gate or Accordion car gate, and upgrading the control switch.
Elevator dimensions and specs have to be examined thoroughly before you decide to install one in the office or the house. Your safety will hinge on this fact.