The A3 dimensions are 11.69" x 16.54" or 297 by 420 mm.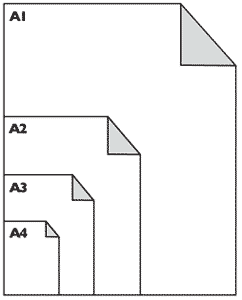 It belongs to the A series page sizes which are the international standards.
Other Information about the A3 Paper
This paper size is used in many countries for various purposes including drawings, diagrams and tables. The paper can also be used to spread out a couple of A4 size papers.
This paper is used extensively in European countries. The closest match in North American paper sizes is the tabloid which measures 11 x 17 inches.
How to Print on A3 Paper
If your paper has A3 dimensions, you can set up your computer program to print on it. The process is not that difficult. The following method can also be used to select other paper sizes.
Step 1
Hook the printer up to your computer if it isn't already. Put the A3 paper on the tray. Printers load papers in different ways; check the manual to find the right way to load them.
Step 2
Open your computer program. Change the page settings to A3. If you are using Word, go to the Page Layout tab. Click the inverted triangle next to "Size". Choose A3 from the list. This will change the paper size to A3.
If you are using another program, click the "layout" or "properties" menu. In other programs you have to go to the "document setup" to change the page layout settings.
Step 3
When you have changed the page size, click "file, print" or press ctrl + P. This will bring up the printer dialog box. Click the "preferences" or "advanced" option. You will see a list of paper sizes there. Select A3 from the list.
Step 4
Make any other changes needed in the printer dialog box. Some of the options you can change are the colors and the quality of the printed output.
Step 5
After all the changes are made, click OK. Keep clicking OK until you get to the first printer dialog box. Review the options. If you are satisfied with the results, click "print". The program will print the document.
Step 6
If you are going to print in the same paper size, just put another paper in the tray and click print.
If you want to change the A3 dimensions to something else, just repeat the process described above. When you have made all the changes, print the document. It will print with the new paper size you selected.