Dimensions of a Jewel Case
Considered as one of the many different kinds of optical disc packaging,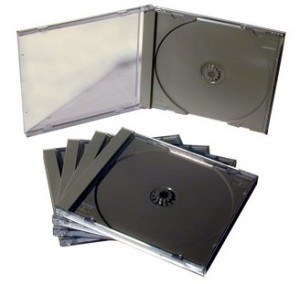 a jewel case is used to pack various types of optical media including DVDs and CDs. By using this semi-rigid or rigid casing, the media can be easily protected from all sorts of exposure damage as well as scratches. It was released initially in 1982, the time when the first compact discs were released. Besides these interesting facts, there are many other important things to learn about it including the dimensions of a jewel case.
The Standard Size of a Jewel Case
A jewel case is basically made up of a three-piece plastic. The standard size of this casing measures 142 millimeters by 125 millimeters by 10 millimeters or 5.59 inches by 4.92 inches by 0.39 inch. It has a standard volume of 177.5 cubic centimetres inclusive of a back card, liner notes and a compact disc. The liner notes may come in the form of a single leaf, which is neatly folded in half. It usually measures 242 millimeters by 120 millimeters or 9.53 inches by 4.72 inches. Liner notes may also come in booklet form, the typical measurement of which is 120 millimeters by 120 millimeters or 4.72 inches by 4.72 inches.
Additional Facts and Other Interesting Details
In addition to the CD and liner notes, a jewel case can also hold a back card, which is nicely shaped into a flattened 'U.' It is filled with all important details including the copyright data, the name of the studio as well as the title of the tracks recorded in the CD. The standard size of back cards is 150 millimeters by 118 millimeters or 5.9 inches by 4.65 inches. Along the ends of the case, consumers can find the title of the recording or film as well as the main artists featured. These details allow the cases to be arranged just like the books found within the shelves.
A circular hub of teeth can be found at the middle of the back media tray. It has a hole that can grip the disc securely in place to prevent scratching and other damages. Black polystyrene is the basic material used to produce media trays.
Because of its durability and efficiency, the jewel case has been established as one of the most reliable storage for CDs and DVDs. However, it is not used to distribute CDs and DVDs that feature major movie releases. Today, even blank Blu-ray discs are now distributed using this particular kind of case. Compared to the cases released in the 1980s all the way to the 1990s, later designs are less durable and lighter.