What is the size of Maryland?
One of the Mid Atlantic states,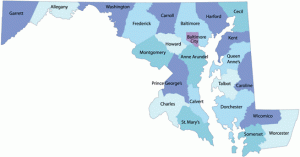 Maryland is bordered by Delaware on the east, the District of Columbia and West Virginia on the west and south and Pennsylvania on the north. This state is known by the nicknames 'America in Miniature,' 'Little America' and 'Old Line State.' Its capital is Annapolis, while the largest city is Baltimore. This state hosts numerous biotechnology firms including the J. Craig Venter Institute, the Howard Hughes Medical Institute as well as the University System of Maryland. Besides these facts, there are more to learn about this place including the size of Maryland.
The Size of Maryland
What is the size of Maryland? The state of Maryland ranks 42nd overall in the United States in terms of land area covered. It occupies approximately 32,133 square kilometers or 12,407 square miles. Its width measures 145 kilometers or 101 miles, while its length is 400 kilometers or 249 miles. Baltimore, which is the largest city in the state, has a land area of 209.3 square kilometers or 80.8 square miles. The highest point in the area is Hoye Crest, which is part of the Backbone Mountain. It has a height of 1,024 meters or 3,360 feet.
Additional Facts and Other Important Details
Maryland features a wide variety of topography, which is the main reason why it was nicknamed 'America in Miniature.' These include mountains, rolling hills, low marshlands and sandy dunes. However, the state has no natural lakes. Based on the report published by the Bureau of Economic Analysis, the gross state product of Maryland reached $257 billion in 2006. Additionally, it posted a per capita personal income amounting to $43,500 in that very same year.
The tertiary service sector is the focus of the economic activity of the state. It imports various kinds of bulk commodities and raw materials such as fertilizers, sugar and petroleum. Furthermore, it hosts different medical research and educational institutions. It also has a pretty good food production industry, which is led by the commercial fishing of striped bass, oysters and blue crabs.
Agriculture is another major industry in the area, which is led by the strong production of sweet corn, watermelons and cucumbers. The other major agricultural outputs of the state include peas, squash, muskmelons and tomatoes. Moreover, the mining and manufacturing industries also contribute a lot to the economic strength of the state.
The state is also home to a number of professional sports franchises including the Washington Wizards of the National Basketball Association or the NBA, the Washington Capitals of the National Hockey League or NHL and the Baltimore Orioles of Major League Baseball.