Dimensions of a Full Size Bed Frame
Also called bedstead, a bed frame is a type of furniture used for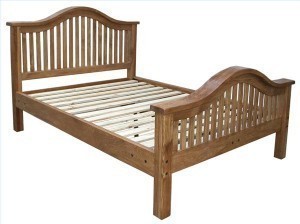 positioning and holding a mattress. It is usually made of different materials like brass, steel or wood. This furniture includes side boards, a footboard and a headboard. In addition, it includes other features such as bed posts and a support rail. It comes in various sizes such as a double or full size frame. Know more about this useful room furniture by determining the standard dimensions of a full size bed frame.
Full Size Bed Frame Dimensions
What are the dimensions of a full size bed frame? The length of a standard double size bed frame with low end is 78 inches while its width is 58.5 inches. In terms of height, it is basically 34 inches high. When compared to a full XL bed frame, the latter is longer with a usual length of 83 inches. However, if you prefer to use a boxspring frame in your room, you can expect the dimensions of this furniture to be 83 inches x 80.5 inches x 47 inches.
Additional Information and Other Interesting Details
Aside from the dimensions, there are many other significant things to learn about a full size bed frame. The materials commonly used for its headboard and footboard are metal and wood. Sometimes the boards of this room furniture are covered with leather or fabric to make them more attractive and appealing. For the safety of everyone, each full size bed frame comes with durable bed rails, which are basically made from the finest steel angle iron available.
Knock down fittings are used for attaching a headboard, footboard and bed rails to the bed post. These parts are helpful in order to make the process of dismantling a bed frame easier. The plate-and-hook fastener, pin-and-hook fastener and bed bolts are the common fittings installed on this room furniture.
A simple and plain bed frame is typically made of 100 per cent metals or brass. To enhance its appearance, manufacturers of this furniture commonly decorate it with porcelain finials. In addition, it comes in different styles such as the traditional, contemporary, Edwardian, Victorian, transitional as well as Art deco bed.
The prices of bed frames range from $80 to $1,000. They depend on the brand as well as the materials from which they are made of. Other factors that affect the cost include the size and style. If you wish to maximize these products, it is best to purchase them from the leading manufacturers of appealing and attractive house furniture such as Madelaine, Powell, Lancaster as well as Charleston.