How High is Mount Nanga Parbat?
Found deep within the northern parts of Pakistan,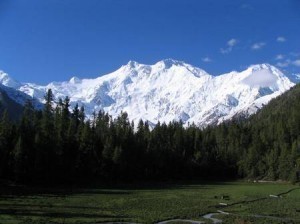 Mount Nanga Parbat is part of the Himalayas. It is considered the ninth highest mountain worldwide. The term 'nanga parbat' means naked mountain. Amongst the eight-thousanders, it is considered one of the deadliest for mountain-climbers, particularly during the first part of the twentieth century. Aside from these interesting details, there are more to know about the place including the height of Mount Nanga Parbat.
The Height of Mount Nanga Parbat
How high is Mount Nanga Parbat? Mount Nanga Parbat is the second highest mountain in Pakistan, which measures 26,660 feet or 8,126 meters high. Likewise, it is the ninth highest worldwide. Its topographical prominence is 15,118 feet or 4,608 meters, which is good for 14th overall in the world. The easiest route is called Diamir Face, which is found at the west face of the mountain.
Additional Facts and Other Important Details
Mount Nanga Parbat is located at the southern end of the Indus River, which is part of the Astore District in Pakistan. At the northern end of this mountain is the west part of the Karakoram mountain range. One of its notable features is the Rupal Face, which measures 15,000 feet or 4,600 meters from the base. Aside from this, there is also the Rakhiot Flank, the measurement of which is 22,966 feet or 7,000 meters high from the Indus River valley.
Serious attempts to climb the top of this mountain started in 1895. A British mountaineer named Albert F. Mummery spearheaded an expedition to reach the summit. He and his companions reached approximately 7,000 meters of the Diamir Face. Sadly, Mummery and a couple of his companions died while exploring the Rakhiot Face.
The German interest to reach the summit of this mountain arose in the 1930s. It happened after the failed attempt of German mountaineers to climb Mount Everest. In 1932, Willy Merkl led the very first German expedition. For some, it was called the German-American expedition because it included an American named Rand Herron. A year after this climb, German team member Fritz Weissner became a naturalized citizen of the United States. The expedition failed because of different factors including bad weather conditions, poor planning and the lack of Himalayan experience among its members. The team only reached the Rakhiot Peak.
The first successful ascent to Mount Nanga Parbat took place on July 3, 1953, when an Austrian climber named Hermann Buhl reached its summit. He was part of the German-Austrian team that was organized by Merkl's half-brother Karl Herrligkoffer. Before this successful climb, approximately 31 people were already killed in the mountain.