What is the size of Wisconsin?
Situated in the north-central part of the U.S.,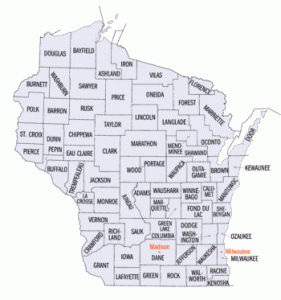 Wisconsin is a state bordered by the Lake Superior at the north, Michigan at the northeast, the Lake Michigan at the east, Illinois at the south, Iowa at the southwest and the Minnesota at the west. The largest city in this state is the Milwaukee while Madison is the capital. The state has five areas, namely the Lake Superior Lowland, the Northern Highland, the Central Plain, the Eastern Ridges and Lowlands as well as the Western Upland. To know more about the geography of this state, let us start with the size of Wisconsin in terms of area and population.
The Size of Wisconsin
What is the size of Wisconsin? Considered as the 23rd largest state in the United States, the state has a total area of 169,639 square kilometer. The width of the state is 420 kilometers. The state's length is 500 kilometers. The total of percentage of water in Wisconsin is 17.
The highest point in the state is the Timms Hill, which has a height of 1,951 feet. On the other hand, the lowest point in the area is the Lake Michigan with a depth of 579 feet. The mean elevation in the region is 1,050 feet.
In terms of population, Wisconsin is considered the 20th most populous area state in the country. The estimated population in 2008 is 5,627,967. The population density is 38.13 square kilometer. When it comes to the median income of residents in the area, it ranked 15th among the states in the U.S.
Additional Information and Other Important Details
Different geographical features are present in the state like mountains, lakes and forests. In fact, 46 per cent of the total land area of the state is forest. To attract tourists in the area, the National Park Service manages different tourist spots like the Apostle Islands National Lakeshore, the Ice Age National Scenic Trail, the North Country National Scenic Trail and the Saint Croix National Scenic Riverway. Other tourists destinations that people can visit in the state are the Circus World Museum, the House on the Rock and the Wisconsin Dells place. In addition, there are interesting festivals that people can observe including the EAA Oshkosh Airshow and the Summerfest.
The economy of the state is improving. Wisconsin ranked 21st among states in the country in terms of gross state product in 2008 with $240.4 billion. Various industries contribute to the improving economy of the state like the health care, agriculture and the manufacturing industries.